In this post I share a download link to the transcript slideshow I've prepared of a VIRAL VIDEO that has been watched over 1million times!
It's message is VERY relevant to the current times.
The Nigerian woman who authored it (judging from her looks) belongs to the age group of women she addresses. And she pulls no punches in telling those of them guilty of bad habits she describes, in relating with their male partners, why they are wrong, and what they need to do to change for the better.
I strongly recommend that EVERY woman watch this video, and also that EVERY parent make his/her children watch it, so they can LEARN what kind of behavior to emulate.
In creating my transcript slideshow version of it, I decided to give it a TITLE and SUBTITLE, as follows:
Title = What It Really Means to Be a 'Strong Woman'

Subtitle = Nigerian Woman Delivers Hard Hitting Message to Peers About Relationships
Here's an excerpt:
"A strong woman is that woman that is matured – spiritually, physically and emotionally. You should be able to manage your emotions. Control them – not them controlling you. Men can say a whole lot of things that can get us aggravated. Yes, it's normal. We can say that too."

Click below to download the full verbatim transcript slideshow I prepared. The URL to the full video is provided on the last slide.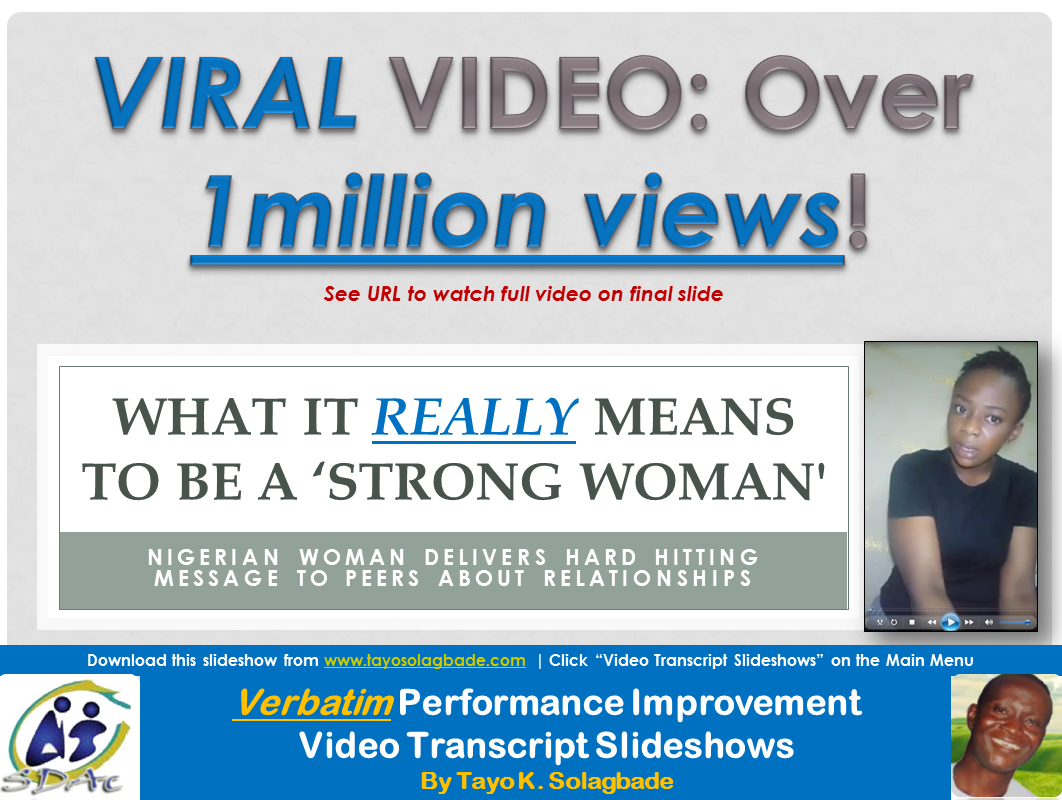 The slideshow provides the URL to the full video. Click here to view it now…
This is a FREE VIDEO Based Transcript Slideshow created for my advocacy Facebook page titled "page [Domestic Violence Against Men (DVAM) – Ideas for Identifying and Stopping It]" at http://www.facebook.com/stopdvambytks
PS: Would you like to receive the Power Point Slideshow directly in your email?
So you don't have to view at your own convenience? Click here to send me a request – and I will email it to your inbox.
Source: ExcelVB