The gentleman posted as follows:
"…so how can young people in South Africa create Assets with out having jobs?…"
This article is based on a comment I recently posted in response to the above question posed by a South African follower of Robert Kiyosaki(RK)'s Facebook business page, in response to a post announcing a new series of Rich Dad Financial Education Seminars.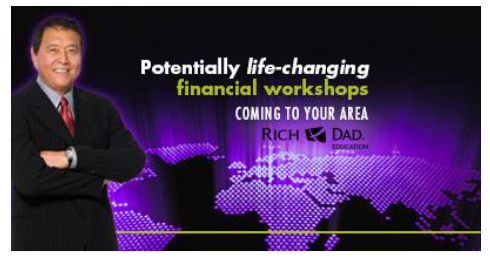 Details indicated the events were planned for certain locations in South Africa – but it was clearly stated that they would be conducted by RK's team, and that he would NOT be attending.
Something about the comment posted by that South African, and the way he ended it, alerted me to the fact that the insights I'd gained over the past decade, about how to use RK's ideas to make money using non-physical zero cost "Assets"
So, I decided to post a response to his comment.

By the time I was done, I realized others with similar need for insights would find it useful if I published it on this blog.
What follows below is the verbatim reproduction of my original comment…
If you mean physical assets like rental properties that RK often describes, persons without jobs would certainly struggle as your question implies..,

Such persons – indeed anyone – can however get started and grow his/her wealth using an alternative strategy of creating what I've named Digital Cash Flow Generating Assets (DCFGAs)

I've been reading RK's books since 2000, and quit paid employment in Dec. 2001 to start my own business.

It took me years to find a way to successfully adapt his ideas to work for me, in my harsh socioeconomic environment of Nigeria. But my passion forced me think creatively in using his definition of assets as "anything that puts money in my pockets".

I looked more closely at what he did and realized his real estate formula would not work so well in my society, for someone lacking ready access to tangible funds/risk capital, and reliable connection/networks etc

But I noticed he had quite a lot of passive income coming to him from his prolific authorship of information products. Apart from royalties from book sales, he also earned lots of money via licensing of publishing rights for his books and creation/sales of ebook, video, audio etc versions.

I realized I could focus on doing the same thing too I.e Monetizing my Expertise. The best part was that I built Excel VB software products for niche markets, but had previously focused on marketing them via pavement pounding/door to door selling and cold calling.

I realized I could get better results by building a digital marketing system and delivering my products online to buyers in complete packages.

It's taken me time to perfect it, and I still continue to tweak, refine and reinvent it. But I can tell you that today I live my dream earning over 80% of my income passively.

If I could have done it, others can do it as well.

Below are links to 2 pages on which I share details of what I do and how I do it, with regard to using the above strategy.

1. The Best Way to Make Money (True Story)

2. Spontaneous Coaching™ Program: Monetize Your Expertise to Make EXTRA Money With LESS Effort by Creating Cash Flow Generating Assets (CFGA)™

I refer you to them simply to offer a real world example of what I've described here, and NOT in an attempt to recruit you or any other reader(s). I have no need to use such "tricks" because my marketing system drives pre qualified motivated prospects to me even while I sleep.

Hope this helps

Tayo

PS: Hmm…I think I'll publish this later today as a blog on my website, so others with similar concerns can read it.
You're reading How You Can Create Income Generating Assets Without Having a Job or ANY Money! (True Story) by Tayo Solagbade, originally posted on his Daily Self-Development (SD) Nuggets™ blog. If you loved reading this post, be sure to follow Tayo on Twitter, Facebook, and Google+.
You may also wish to check out his growing library of tutorial and demonstration videos on Youtube. Click here, to download over 10 resources to boost your personal and work related productivity.
IMPORTANT NOTE:
On 4th May 2014, Tayo's 9 year old domain (Spontaneousdevelopment dot com), was taken over by Aplus.net. Within a few days however, Tayo used his advanced self-taught web development skills to build (and move his website contents into) a SUPERIOR "reincarnation" at http://www.tayosolagbade.com.
Most URLs bearing the old domain name appearing in search engines should now work if "spontaneousdevelopment.com" is replaced with "tayosolagbade.com". If you experience any difficulties finding a page or document, email Tayo at tksola dot com.
Click "Tayo, What Happened to SpontaneousDevelopmentDotCom?" to read a detailed narrative about how the above event occurred :-))
Here's an article Tayo wrote, to inspire others to defy adversity, and bounce back to even greater reckoning at what they do EVERY time:
And he wrote the one below, to explain why losing a domain name, no matter how old NO LONGER determines your online success or otherwise:
A Proven Strategy to Find Profitable Buyers Regardless of Your Domain Name
Source: ExcelVB