Why was this club formed & a competition setup?
(a). The club offers serious minded business users a platform to learn useful spreadsheet automation skills using MS Excel-Visual Basic.
(b). The competition provides such business users with a REAL WORLD relevant challenge that they can use to test their new skills, thereby building the confidence to deliver greater value to their employers or clients – leading to increased productivity and income.
(c). The Kiddie's arm of the club aims to promote zero cost spreadsheet programming skills development in kids, to solve everyday problems.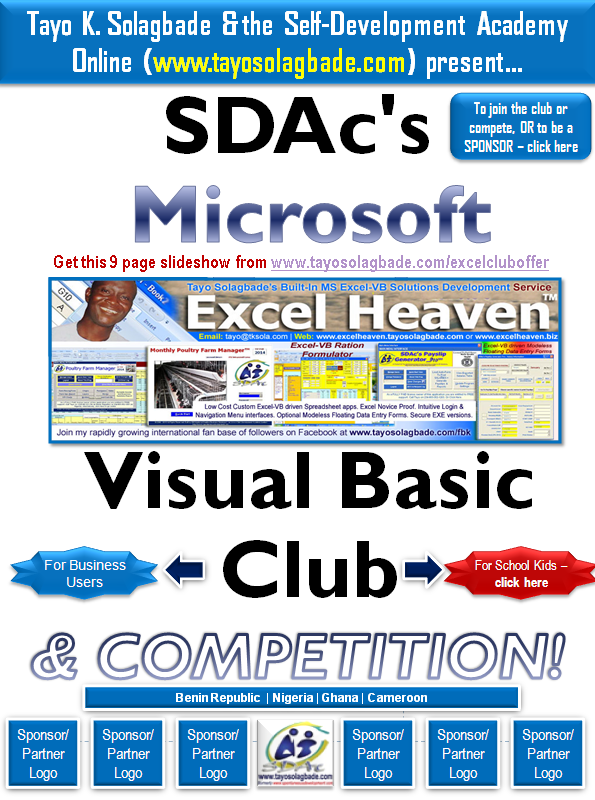 Who is this club/competition for?
*******
MS Excel is available on most PCs anywhere, and it has it's own development platform. ANYONE competent in Excel VB programming can therefore earning income developing low cost custom applications at zero cost!
There is a HUGE Excel-VB industry across the world that most people are not aware of.
Many professionals in various fields provide custom ExcelVB solutions to clients they support e.g. Accounts/financial consultants, engineers etc. I want to help such experts become more productive and profitable.
Whether you are in paid employment or run your own business, joining this club can help you.
Click here to continue reading about the multiple benefits YOU GET!
Download this image flyer for full details.
GET FREE MEMBERSHIP: If you're a student accountant (preparing for professional exams), or pupil/student (primary to secondary), contact me to learn how you can join FREE!