LEARN MS EXCEL-VB AUTOMATION FROM ME…IN THE COMFORT OF YOUR HOME!
If you do routine data recording, analysis and report generation, using MS Excel, I can show you how to optimize and automate your work, to achieve HUGE savings in time, effort and even money!
Over 2 decades of experience in developing custom Excel-VB Solutions for business users equip me to develop solutions for clients, and also to teach them to do so for themselves.
The best part is you do can learn from me in the comfort of your home or office. Anytime of the day.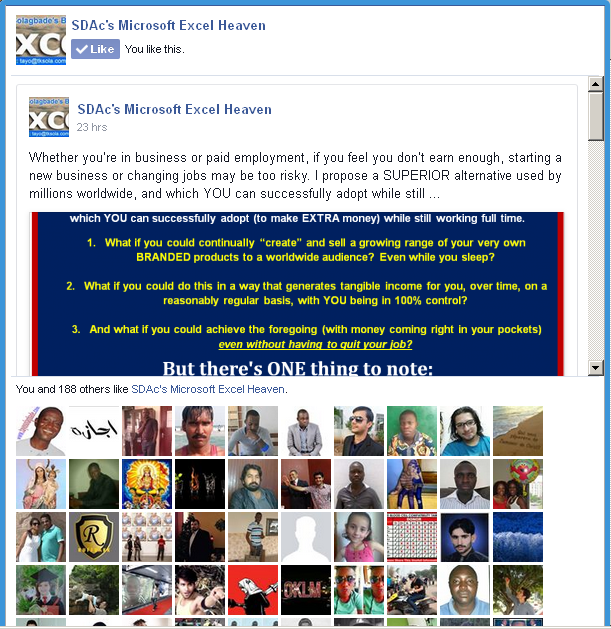 That's because I create custom learning resources based on the work you do in form of videos, workbooks and web pages for you to study. Plus, you get email, chat and telephone coaching.
My tutorial workbooks come with videos showing me creating the workbooks I send you from scratch.
If you're interested, I can also create for YOU, videos showing the steps I followed in building ANY of my existing apps, that you choose. You will be able to see EXACTLY what you need to do to create them yourself.
A good example is my very popular Payslip Generator which comes in 2 versions – Basic and Pro. The latter features a powerful floating, modeless data entry form that handles routine entry and editing of salary information.
The graphic user interfaces of my apps are also quite intuitive, making it easy for a complete Excel novice to learn to use them in a short time (often ONE day).
When you learn from me, I show you how to make your apps user-friendly in the same way. Your colleagues will LOVE you for it, as did mine when I was an employee!
Get Everything I Teach You, On a Branded Autorun DVD
If you wish, I can burn ALL the learning resources I create for you onto a special autorun DVD that will be delivered to you, so you can have access to everything in ONE place.
That means in future, you would be able to pick it up and refresh your memory on any aspects you want.
What's more, you would also be able to use it to COACH others who may request your help (and possibly even get paid to do so too!).
So, How Do You Gain Access to All The Above?
Simple. Join my Inner Circle. Click here to learn how.
******NOW HERE'S SOME POTENTIALLY EXCITING NEWS!*****

On Starting 13th April 2015 I announced that ANYONE who purchases Burt Dubin's Speaker Mentoring products/service to the tune of $500 US dollars or more, WILL get FREE Lifetime Membership of my Inner Circle. If you're an expert-who-speaks or one aspiring, THAT is an opportunity to eat your cake and have it. You get ALL the benefits of my Inner Circle memberhip (click to learn what they are) AND you also get access to THIS home study tutorial (N100k value)!

Click here to let me know you want t purchase Burt's offers…as a means to joining my Inner Circle, so as to get THIS home study tutorial offer.

*********
In case you wonder what the learning resources I create will look like I offer previews below…
VIDEO PREVIEW: Save Money, Time & Effort Preparing Your Company's Pay slips Using MS Excel®! [Parts 1, 2 and 3]
Subtitle: Automating a "2 payslips to a page" workbook into a multi-payslip generating app
This is a 3 part trailer/preview for my tutorial on Building ExcelVB Payslip Generators available ONLY to members of my Inner Circle.
Part 1 of 3: Automating a "2 payslips to a page" workbook into a multi-payslip generating app
Part 2 of 3: Automating a "2 payslips to a page" workbook into a multi-payslip generating app
Part 3 of 3: Automating a "2 payslips to a page" workbook into a multi-payslip generating app
NB: If you want to get a closer look at the spreadsheet as I work in the above mentioned Payslip Generator video trailer, you can watch a LARGE screen version of this video (in 3 parts) : Click here to request the download links.
VIDEO PREVIEW – EXAMPLE WORKBOOK NO. 1:
Below is a screen shot of a tutorial workbook I created several years ago, for the National Distribution Manager of a large multinational telecoms company (The Logistics Department hired me)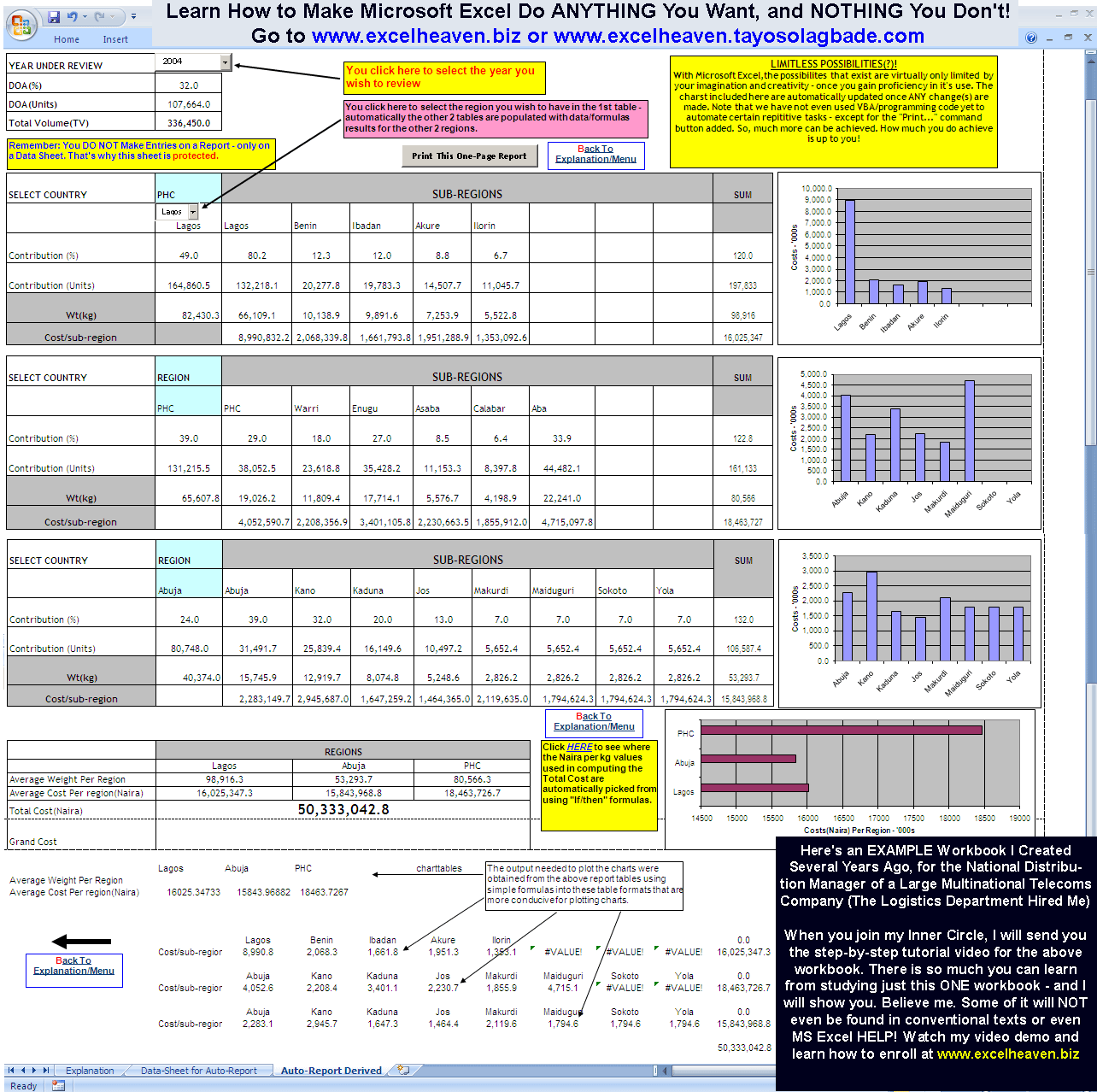 With Microsoft Excel,the possibilities that exist are virtually only limited by your imagination and creativity – once you gain proficiency in it's use. The charts included here are automatically updated once ANY change(s) are made.
Note that we have not even used VBA/programming code yet to automate certain repetitive tasks – except for the "Print…" command button added. So, much more can be achieved. How much you do achieve is up to you!
[NB: If you want to get a closer look at the spreadsheet as I work, you can watch a LARGE screen version of this video (in 2 parts) on my website at: Click here to request the download links.
When you join my Inner Circle, I will send you the complete step-by-step tutorial video for the above workbook. There is so much you can learn from studying just this ONE workbook – and I will show you. Believe me. Some of it will NOT even be found in conventional texts or even MS Excel HELP!
UPDATE: watch the CONCLUDING portion of the above tutorial preview video (This 4:13 clip inadvertently got cut off during editing!)
If you want to get a closer look at the spreadsheet as I work in the above concluding video, you can watch a LARGE screen version of it at the link below on my website: Click here to request the download links.
This is a highly sophisticated custom Excel-VB driven workbook app that I built for a medium sized Lagos based hospital in 2007. Watch on Youtube
Like others, this app's intuitive interface practically eliminates the need for a user to know how to use MS Excel. If you can use a mobile phone, you can use this app. Within 30 minutes to 1 hour of working with it by following the video or PDF guide, or watching someone else use it, you'll be up and running.
Watch the video below to see it in use.
Click here to request the download links to a preview video in which I make changes to aspects of the code to update the URLs in the app from spontaneousdevelopment.com (my former domain) to tayosolagbade.com – which is now my flagship domain.
When you join my Inner Circle, you will become eligible to request step-by-step video tutorials in which I show how to build this app, and others.
See more examples below…
Here's My Poultry Farm Manager's Automated Layers Hen Day Percentage Charts & Broiler Reports Generation Interface
Click here to watch 15 tutorial videos for the above app
Here's A Chart Plotting Tutorial Video:

Plot A Quick Graph/Chart Using Dynamic Data
Click here to watch it on Youtube. When you join my Inner Circle, I will send you the workbook used for the above demonstration, with explanatory notes prepared along with it.
Here's Another Reason to Choose Me: I'm Different from Others Who "Teach" Excel…
Unlike others who offer to help you learn MS Excel at any level, I do NOT use generic material to teach you.
Instead, EVERY exercise I create for you will be based on the real life activities you tell me you use (or want to use) Excel for.
As a result, you will always END each exercise with something you put to immediate use in your work, with minimal delays!
What Makes Me So Confident That I Can Help You?
It's the fact that I've been creating custom spreadsheet solutions, for use by serious business users since 1995. That's well over 2 decades.
I started by doing it in paid employment. Click here to view my resume which describes specific examples of how I created custom apps that were formally used for management level manufacturing reporting during my stay in Guinness Nigeria.
Since becoming an entrepreneur, in 2002, I have enjoyed international level recognition for my trademark MS Excel-VB driven apps before buyers from in/out of Africa, for a decade now. My work is widely shared (especially my Youtube channel tutorial videos) online, and it has earned me friendships with other developers outside the continent, as far as Singapore.
If you're diligent, and committed in studying the resources I send you, and also in carrying out the exercises you are given you will RAPIDLY develop the competence needed to begin creating your own powerful MS Excel based solutions, with and without VBA programming.
To get started accessing my tutorials, you have to join my Inner Circle. Once you've done that, I will send you details of the next steps.
Click here to learn how to become a member of my Inner Circle.
Once you've read it, fill/submit the form at http://tayosolagbade.com/contact.htm to let me know you're ready to make payment.
I look forward to working with you!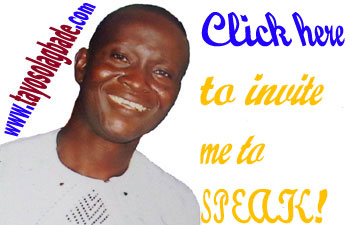 Tayo K. Solagbade*
Self-Development/Performance Improvement Specialist
*Sole Agent For Burt Dubin's Speaker Mentoring Service In Africa
Mobile: +234-803-302-1263 (in Nigeria) or +229-66-122-136 (in Benin Republic)
Tayo K. Solagbade is a Location Independent Performance Improvement Specialist and Multipreneur (i.e. a highly versatile/multi-skilled entrepreneur), with a bias for delivering Best Practice solutions to Farm Businesses and others.
Since 2002, he has earned multiple streams of income providing individuals and organizations with personal development training and coaching, custom MS Excel-VB solutions, web marketing systems/web hosting, freelance writing services, and best practice extension support services (for farm business owners).
Tayo is the author of the Self-Development (SD) Bible™ and the popular Livestock Feed Formulation Handbook. He is also the developer of its accompanying Excel-VB driven Ration Formulator™ and the Poultry Farm Manager™ software.
He has delivered talks/papers to audiences in various groups and organizations, including the Centre for Management Development, University of Lagos, Christ Baptist Church, Volunteer Corps, Tantalisers Fast Foods and others. In May 2012 he was the Guest Speaker at the Centre for Entrepreneurship Development's Annual Semester Entrepreneurial Lecture at Yaba College of Technology in Lagos.
On 1st April 2013, Tayo (who reads, write and speaks the French language) relocated to Cotonou, Benin Republic to begin slowly traveling across the West African region.
His key purpose is to deliver talks, seminars and workshops on his key areas of focus and interest to interested audiences (Email tayo at tksola dot com for details).
In a previous life, before leaving to become self-employed, Tayo served for seven years as a high performing manager in Guinness Nigeria. He rose from Shift Brewer, to Training & Technical Development Manager, and then later acted in senior management roles as Production Manager and Technical Manager.
He is an Associate Member of the UK Institute & Guild of Brewing, a 1997 National Finalist of the Nigerian Institute of Management's(NIM) Young Managers' competition, a Certified Psychometric Test Administrator for Psytech UK, innovator of Spontaneous Coaching for Self-Development™ (SCfS-D™), and Founder of the Self-Development Academy Limited.
When he's not amazing clients with his superhuman skills (wink), Tayo works as the creative force behind his Daily Self-Development Nuggets blog – on which he also publishes his Weekly Public Speaking IDEAS newsletter(which he uses to promote Burt Dubin's Public Speaking Mentoring service to experts working across the African continent).
You can connect with him on Twitter @tksola.com and Facebook.
Visit Tayo Solagbade Dot Com, to download over over 10 performance improvement resources to boost your personal and work related productivity.
==== [IMPORTANT NOTE:====
On 4th May 2014, Tayo's 9 year old domain (Spontaneousdevelopment dot com), which hosted his website, was taken over by Aplus.net.
Within a few days however, Tayo used his advanced self-taught web development skills to build a SUPERIOR "reincarnation" of it the website http://www.tayosolagbade.com.
But updates are still ongoing to URLs bearing the old domain name in most of the over 1,000 web pages, and blog posts he's published.
If you experience any difficulties finding a page or document, email Tayo at tksola dot com.
Click "Tayo, What Happened to SpontaneousDevelopmentDotCom ?" to read a detailed narrative about how the above event occurred :-))
Here's an article Tayo wrote, to inspire others to defy adversity, and bounce back to even greater reckoning at what they do EVERY time:
And he wrote the one below, to explain why losing a domain name, no matter how old NO LONGER determines your online success or otherwise:
A Proven Strategy to Find Profitable Buyers Regardless of Your Domain Name
==================
VIDEO : Advanced MS Excel-VB Driven Payslip Generator
The video demonstration below, of the latest ADVANCED version of my Custom Payslip Generator shows what is possible in terms of custom MS Excel automation of payslip preparation.
If you join my Inner Circle, I will also send you:
1. a workbook compilation of Six Different Payslip Formats
2. a limited version of my advanced Payslip Generator workbook (described above ) with automated data entry forms features de-activated (users make direct spreadsheet entries).
About The Custom Automated Modeless Data Handling Forms I Create
It can be a headache to find one's way around a large data entry spreadsheet, even if it's report preparation interface is automated via formulas.
The custom built modeless data handling forms (with minimize buttons), that I build into ADVANCED versions of my applications, make crawling around a large data entry spreadsheet (no matter how large) totally unnecessary.
You simply click the relevant control on the form, make entries or changes into fields provided, and the application implements them immediately WITHOUT ERROR – again and again. When you are ready to print (salary schedule or payslip), save changes, export or import salary data and so on, the relevant buttons are also on the form.