This article highlights the important need for EVERY farm CEO to diligently ensure accurate and honest data recording is done by ALL operatives at ALL times, if long term success in terms of production and profitability is to be achieved!
I begin, with the excerpt below, taken from a project status update email I just sent today, to a new Catfish Farm CEO client, who (along with 2 others) took up a recent promo offer I made to build them an Excel-VB driven Catfish Farm Business Manager software.
Hi B…….,

Find attached the following:

1. An MS Excel file containing a blank Functional Requirement Specifications (FRS) document.

You can type and save into it ANY features/functions you want YOUR Catfish Farm Business Manager to have (that are NOT already included in the one I'm working on as per the attached screenshots and PDF details)

2. Five screenshot images showing preliminary interfaces in the software I'm building for you (and 2 other Farm CEOs who took up the same offer I sent you). 

I offer these images to give you a peek into the real life shape and form the app you are going to get will take.

3, A PDF document that outlines the 4 Best Practicre Catfish Farm Business Management records I am using as a basis for building the app. 

I recommend you read it, to understand the thinking behind the work being done, and also to evaluate the 2 BONUS PROMO OFFERS I've made to you, which are designed to get you a MORE complete solution to address the challenges you told me about your farm.

Here's an excerpt from the PDF

The FOUR (4) Catfish Farm Production Records described below are the basis for the Catfish Farm Business Manager™ – Basic version I'm Building [See Attached Screenshots]


1. Pond Management Record Sheet [PMRS] – for tracking operational details of pond production


2. Pond Feed Record Sheet [PFRS] – used for tracking feed use and the response of the fish to feeding.


3. Other Pond Management Inputs Records [OPMIR] – used for tracking all other inputs used for fish production e.g. repairs and maintenance, labour man-hours, transportation etc)


4. Pond Management Accounts Records [PMAR] – used to track income/sales and expenses.


BONUS 1: BOPMS™ PROMO OFFER


You can get customized print-ready MS Excel versions of the above four (4) record sheets that your staff can easily print on paper and fill, which you will then use to update YOUR CFBM™ apps.

Simply pay N50k to have me setup a basic BOPMS™ for your Farm business via development of

(1) Job Descriptions

(2) Work Instructions

(3) Record formats

(4) KPIs and

(5) Problem Solving Guides for you/your farm personnel to use.


QUESTION: How Will Getting 1 to 5 Help You/Your Farm Business?

ANSWER: The CFBM™ software you're getting is only ONE component (i.e. an EIS) in a BOPMS™. The CFBM™ app, and your entire farm, will work better when others (like 1 to 5) are present. See the BOPMS™ Mind Map.


Below are details of features each record sheet should have: ###Excerpts from PDF end###

See the attached PDF for the rest  – including a new article that I just published on my blog titled "You Need to Protect Record Keeping Integrity On Your Farm – Ensure Accurate & Honest Entries! [Coming Soon: Excel-VB Catfish Farm Business Manager™ – Basic version |See Preliminary Screenshots]"
==========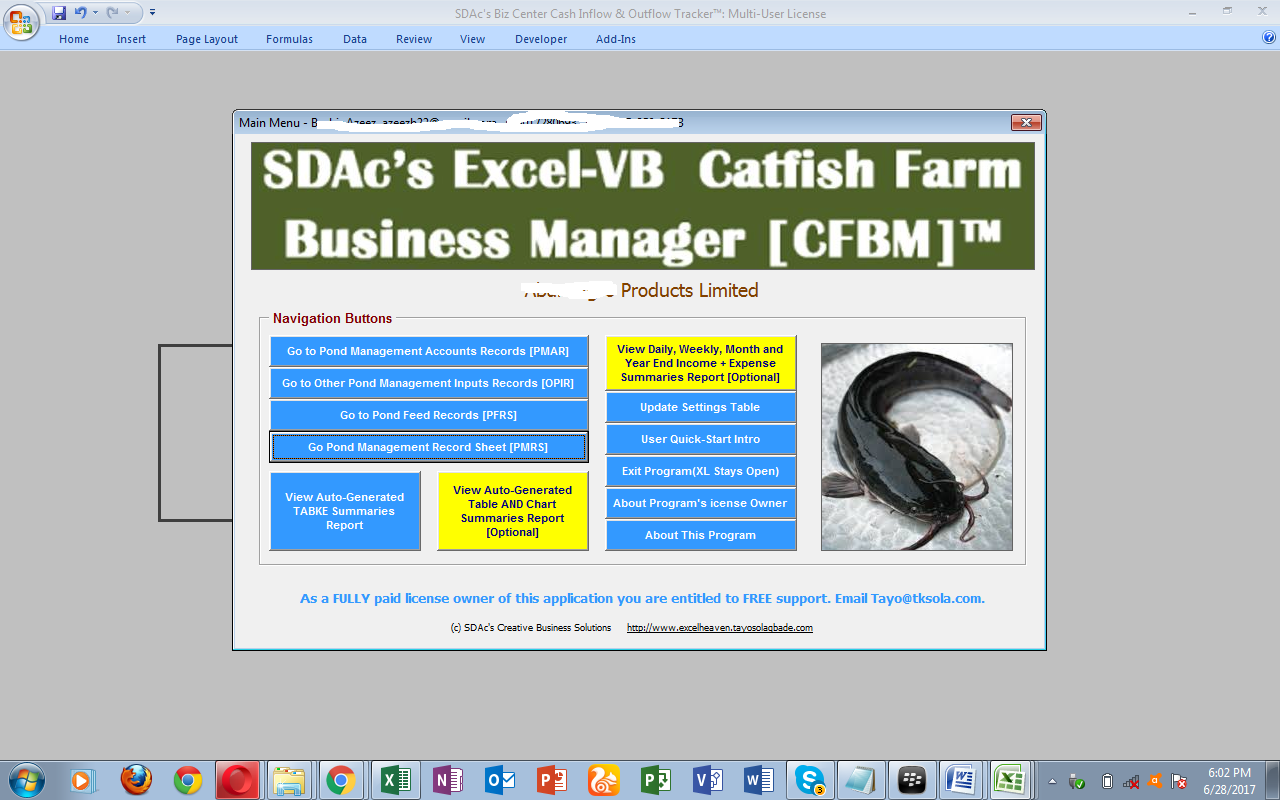 This kind of app mentioned above, is what I refer to as an Entreprise Information System (EIS) in the Mind Map for my Best Operating Process Management System (BOPMS) for Profitable Farm Business Management.
It is one of the key tools for enhancing farm business production and profitability.
However, without accurate and honest data recording, such tools can end up being rendered ineffective or useless!
Which brings me to the topic for THIS articles….
How accurate/reliable are YOUR farm records? Few farmers can answer THAT question  confidently!
Yet, when it comes to data analysis and trending for timely farm planning/decision making, NOTHING matters more than working with accurate and reliable data.
The popular "Garbage In Garbage Out (GIGO)" saying applies fully in this regard.
Diligent – and TRUTHFUL – Farm Records Keeping using available best practice farm records keeping documents is crucial to the long term profitability of a Catfish (and any other) farm Business. Measured Key Performance Indicators (KPIs) are the most reliable means to accurately monitor, manage and evaluate production output and profitability of the Farm Business.
If those KPIs get computed based on WRONG or FALSE data/records, it would mean potential disaster for the farm business!
The above makes it imperative that all persons involved in record keeping on the farm do so with great diligence and truthfulness. You need to record exactly what you did, or what happened over time. Do not make entries designed to create an impression that you have measuring devices you actually lack.
Example 1: If, for instance, you do NOT have a weighing scale do NOT record weight values as if you used one. Instead, use estimates and state that THAT is what you have done. That way, your records will be seen for what they are i.e. estimates.
Example 2: Or, if you forgot to do the second eggs collections for the previous day, do NOT split the collection from the next morning into two portions to cover for the day you missed. Simply note in the comments that the higher collection in the morning was due to non-collection from the day before. That way, chances of warped trends in the farm's data will be minimized.
Farm operatives involved in record keeping need to be made to understand that posting false or inaccurate data for production and sales will often do great harm to the business.
In particular, the farmer's ability to narrow down to and correct mistakes, errors or deficiencies in the operation suffers.
It has been rightly noted by certain aquaculture experts that compared to other farm animal based businesses, fish farming imposes certain peculiar limitations on the farmer's ability to easily and conveniently measure and evaluate his/her livestock's performance.
In this regard, the inability of a fish farmer's to easily see and touch fish has been highlighted.
In other words, since fish live in water by necessity, they cannot be readily seen or touched, in their large numbers by the farmer, except at feeding time (when s/he can use their response to feeding to gauge their performance) and during sampling or harvesting.
If the fish farmer is to ensure s/he achieves the desired long term production and profitability success, s/he cannot depend on the above limited opportunities to determine how well the animals are doing.
This is why diligent documentation and analysis of Recommended Fish Farm Production Records is important.
They are the only reliable way the fish Farm CEO can accurately and reliably monitor trends in "production, fish numbers and changes in fish condition" during the course of each production cycle.
The point being made here is therefore that you MUST ensure all your farm records are documented as accurately and truthfully as possible
It is for the above reasons that I recommend standard record sheets prescribed for best practice farm business management, be designed and produced in print copies for use by your farm operatives.
Correctly filled with truthful data, they will enable quick and easy posting of your farm data into auto-report-generation data entry interfaces in your custom Excel-VB Catfish Farm Business software
Source: ExcelVB