In this special edition of my RECOMMENDED blog post series, I feature previews from high profile news reports about a young African's amazing achievements – from when he was 13 years old – of using 100% self-taught engineering skills to innovate and invent PRACTICAL solutions to everyday problems in his own community.

His accomplishments have since led him to set records of all kinds – including becoming the "youngest person in history to be invited to the "Visiting Practitioner's Program" at MIT" at age 15 – and meeting globally known public figures like the President of Harvard University – and even Hilary Clinton!
Below, I offer a menu of excerpts ending with links to the full reports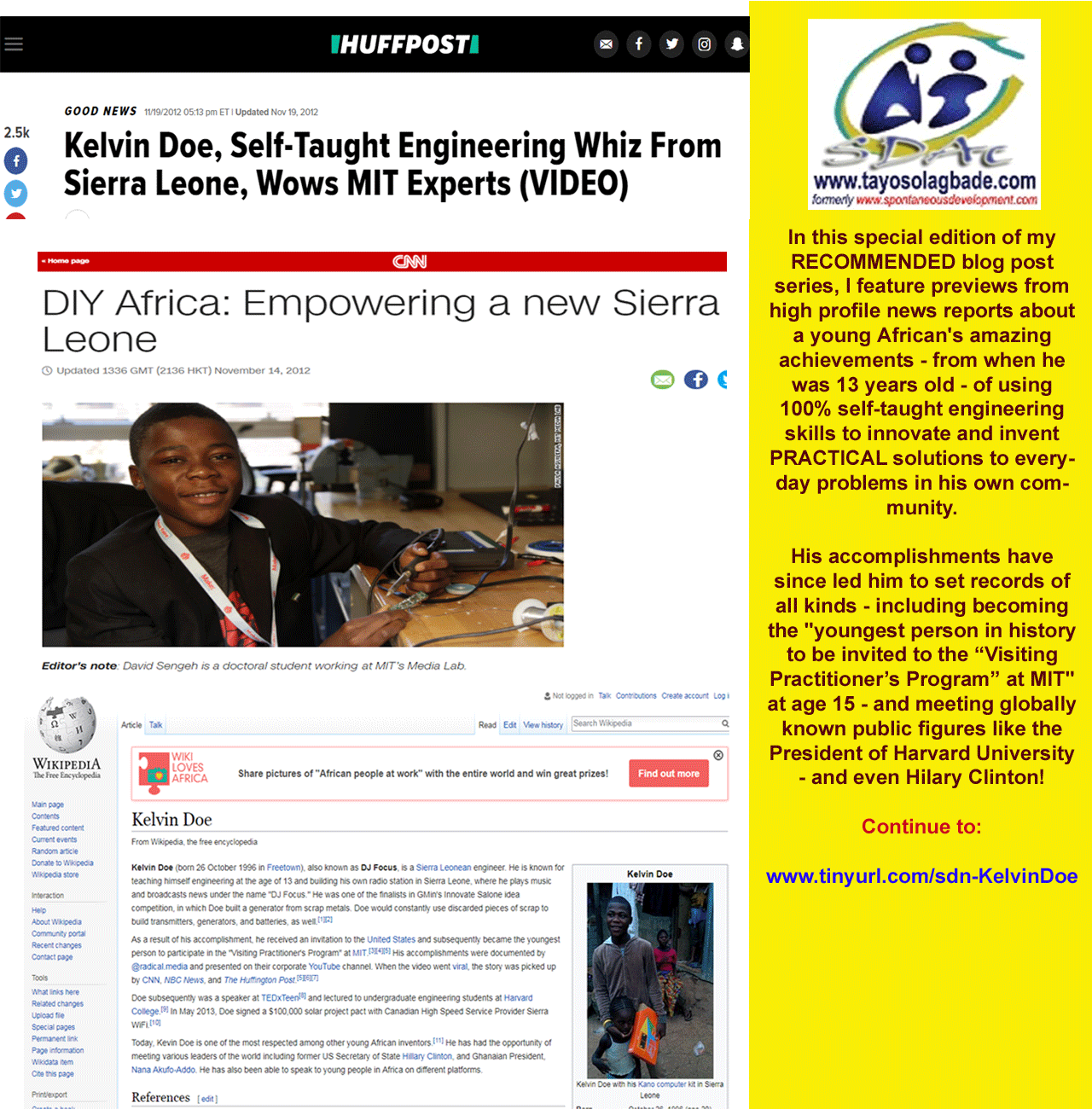 1. "Kelvin Doe, now 16, became the youngest person in history to be invited to the "Visiting Practitioner's Program" at MIT, according to CNN….MIT discovered Doe during Innovate Salone, a national high school innovation challengeheld in Sierra Leone by an international organization called Global Minimum. Doctoral student David Sengeh recognized his skills right away.
Source: HuffingtonPost report – click to read in full
2. "Kelvin Doe (born 26 October 1996 in Freetown), also known as DJ Focus, is a Sierra Leonean engineer. He is known for teaching himself engineering at the age of 13 and building his own radio station in Sierra Leone, where he plays music and broadcasts news under the name "DJ Focus." He was one of the finalists in GMin's Innovate Salone idea competition, in which Doe built a generator from scrap metals. Doe would constantly use discarded pieces of scrap to build transmitters, generators, and batteries, as well.[1][2]
Source: Wikipedia entry – click to read in full
3. (CNN) — When Kelvin Doe, a then-13-year-old from Sierra Leone, saw that off-the-shelf batteries were too expensive for the inventions he was working on, he made his own at home. Kelvin did not have the privilege to do his project in a school environment. Rather, he was compelled to act by necessity and for the joy of solving practical problems. Kelvin combined acid, soda, and metal, dumped those ingredients in a tin cup, waited for the mixture to dry and wrapped tape around the cup to make his first battery. He failed several times before completing a final, working prototype. He hasn't purchased a battery since.
Source: CNN report – click to read in full
4. [Maker Faire] Mention Africa and many of us westerners immediately conjure up images of war, famine, and genocide. But Sierra Leone's 16-year-old Kelvin Doe is conjuring up something something altogether different.
Kelvin, AKA DJ Focus, helped create a DIY youth radio station made from discarded consumer electronics salvaged from local garbage bins. He designed his own generator to power the station's amplifier and other components. The station's 12-volt generator is made from a home-made battery which in turn is  charged by broken DVD players. In his spare time, Kelvin DJs at kids' birthday parties.
Source: Maker Faire report – click to read in full
Source: ExcelVB