This post's message is in line with the theme of my last few posts of the failure of the formal schooling system – especially in Nigeria – to prepare learners to arrive society with real world relevant competence that ensures they can fend for themselves.
The most recent being yesterday's post about the meeting I was invited to have at the Ministry of Youth and Social Development, about my paper titled "Schooling is a Means to an End and NOT an End in Itself"(click to read).
This post features – below – 2 third party online resources that reflect the hard truths I discussed in my paper – and that's why I find it compeling to feature them here:
1. A video of Femi Ogedengbe, the Nollywood actor turned security guard in the United States: This guy totally gets IT!!!
Watch this wonderful video below, and UNDERSTAND why he is able to say he's achieved MORE as a security guard in the USA than he did while an actor in Nigeria.
2. A Facebook post by the popular Bayo Adeyinka, sharing his frustration from interviewing 50 "graduates" of Nigerian tertiary institutions
In his post, Bayo says he emerged from the interview session with insights that forced him to conclude " that we have a BIG problem." with education" in Nigerua.
====
Do you want to get a copy of my 62 page report?
Title = "Schooling Is a Means to an End and NOT an End It Itself"
Alternative Title = "Why I Do NOT Want My Kids to Get the Kind of Formal Schooling I Got"
Subtitle = Hard Truths Parents, Teachers & Policy Makers Need to Understand, to "Educate" Kids for "Authentic Non-Corner-Cutting Success" in the 21st Century!
Simply send me a message via my Facebook at https://www.facebook.com/tayo.solagbade – and I will send it to you as an attachment via that same channel. For those who do NOT wish to use the Facebook channel, fill/submit this web form.
Below: Photo of my copies of the 2 letters beside a printed version of the 62 page report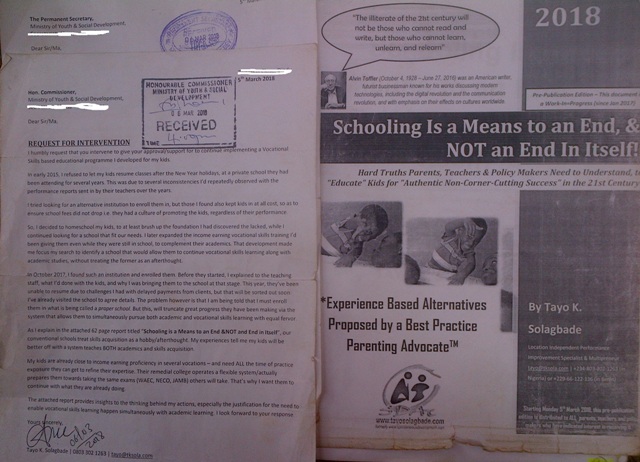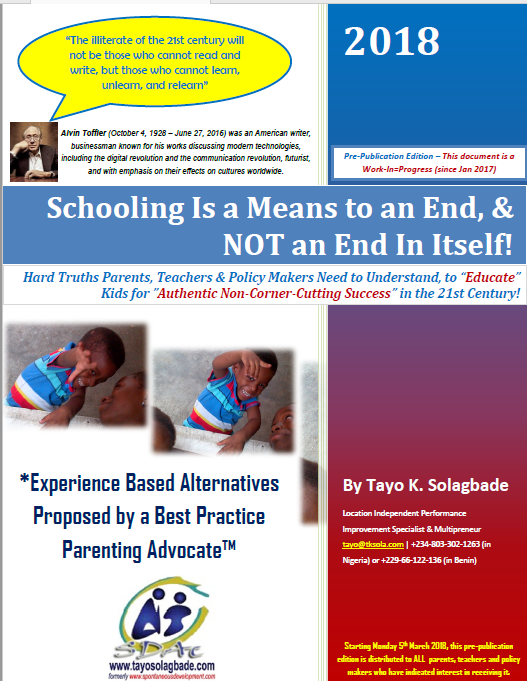 Source: ExcelVB