==Excerpt starts===
"Today I wanted to offer a lesson on how to castrate a man. Em, you may wonder, why would you wanna do that? Well, probably the primary reason would be to get him out of your life, because that is the best way to get rid of a man." – Kara Oh
==Excerpt Ends===
Click the link below to download and view my Verbatim Performance Improvement Video Text Transcript Slideshow version of the wonderfully insightful video message by Kara Oh.
It's aptly titled "How Women Destroy Love."
She really GOT IT RIGHT with the explanation she gives about the 3 ways women unintentionally destroy their own relationships by the way they TALK (i.e the – needlessly hurtful – things they, sometimes, SAY) to their male intimate partners.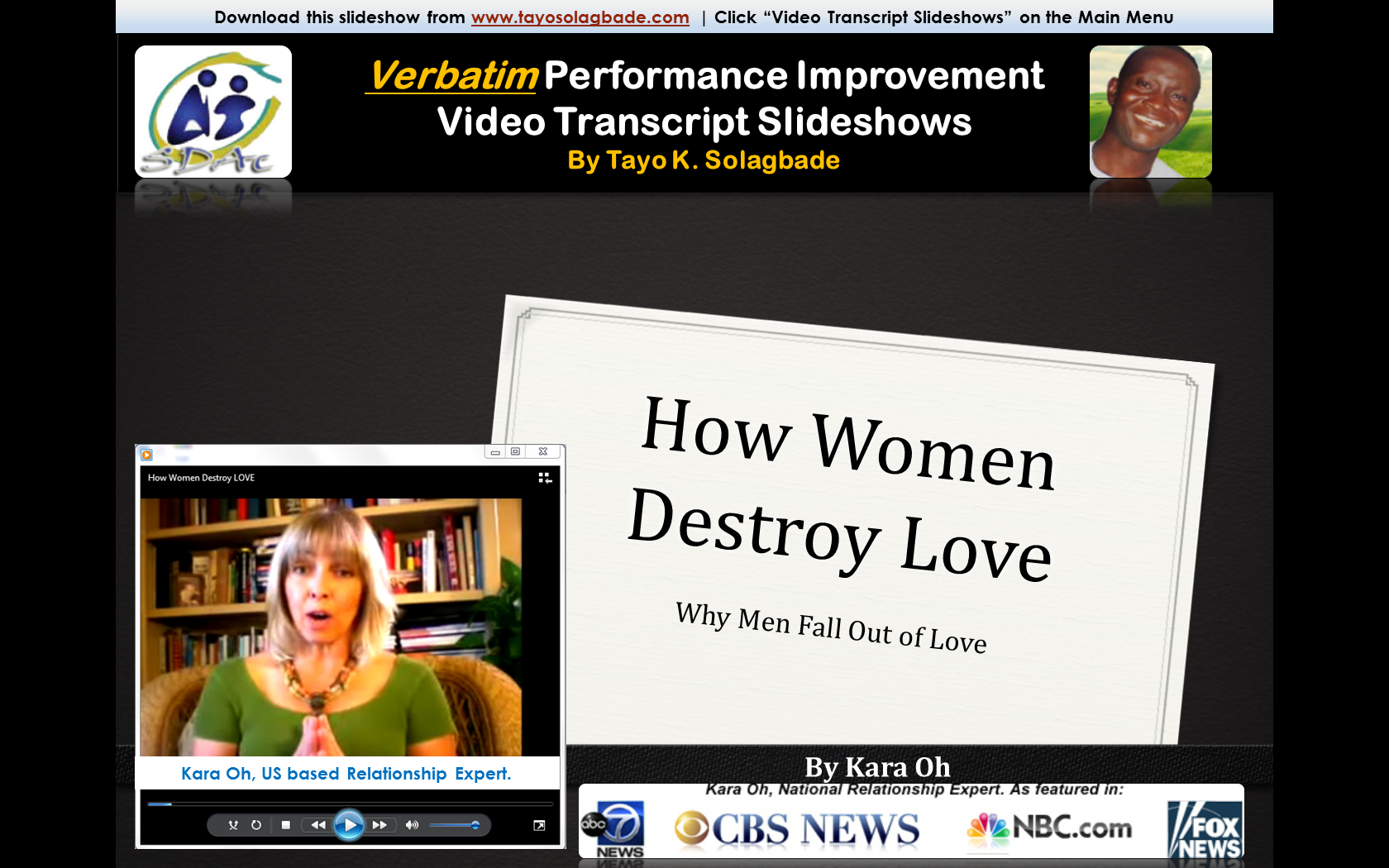 Regardless of what part of the world you're in, even if you are from my part of the world (Nigeria/Africa), THIS lady's advice WILL WORK FOR YOU, if you are a woman wondering why your "man" just refuses to act towards you, like you want him to.
It could be that you are doing one or more of these NAUGHTY things that Kara Oh discusses.
[NB: Kara is a US based National Relationship Expert  who has been featured, on the major news networks – such as ABC News, CBS News, FOX News, NBC.com etc]
The slideshow provides the URL to the full video.
This is a FREE VIDEO Based Transcript Slideshow created for my advocacy Facebook page titled "page [Domestic Violence Against Men (DVAM) – Ideas for Identifying and Stopping It]" at http://www.facebook.com/stopdvambytks
PS: Would you like to receive the Power Point Slideshow directly in your email?
So you don't have to view at your own convenience?
Click here to send me a request – and I will email it to your inbox.
Source: ExcelVB