"After a certain high level of technical skill is achieved, science and art tend to coalesce in aesthetics, plasticity and form. The greatest scientists are always artists as well." – Albert Einstein
Despite agreeing with virtually everything else he said in his THIS DAY newspaper article on the recent NBL sponsored Maltina Teacher of the year competition, I TOTALLY disagree with the sentiment expressed in that piece (see quote below) by Olusegun Adeniyi, that suggests he considers science subjects more important than those in the arts, humanities etc.
Nothing could be further from the truth, as I explain in this PDF white paper…AND as the above quote credited to Albert Einstein himself indicates.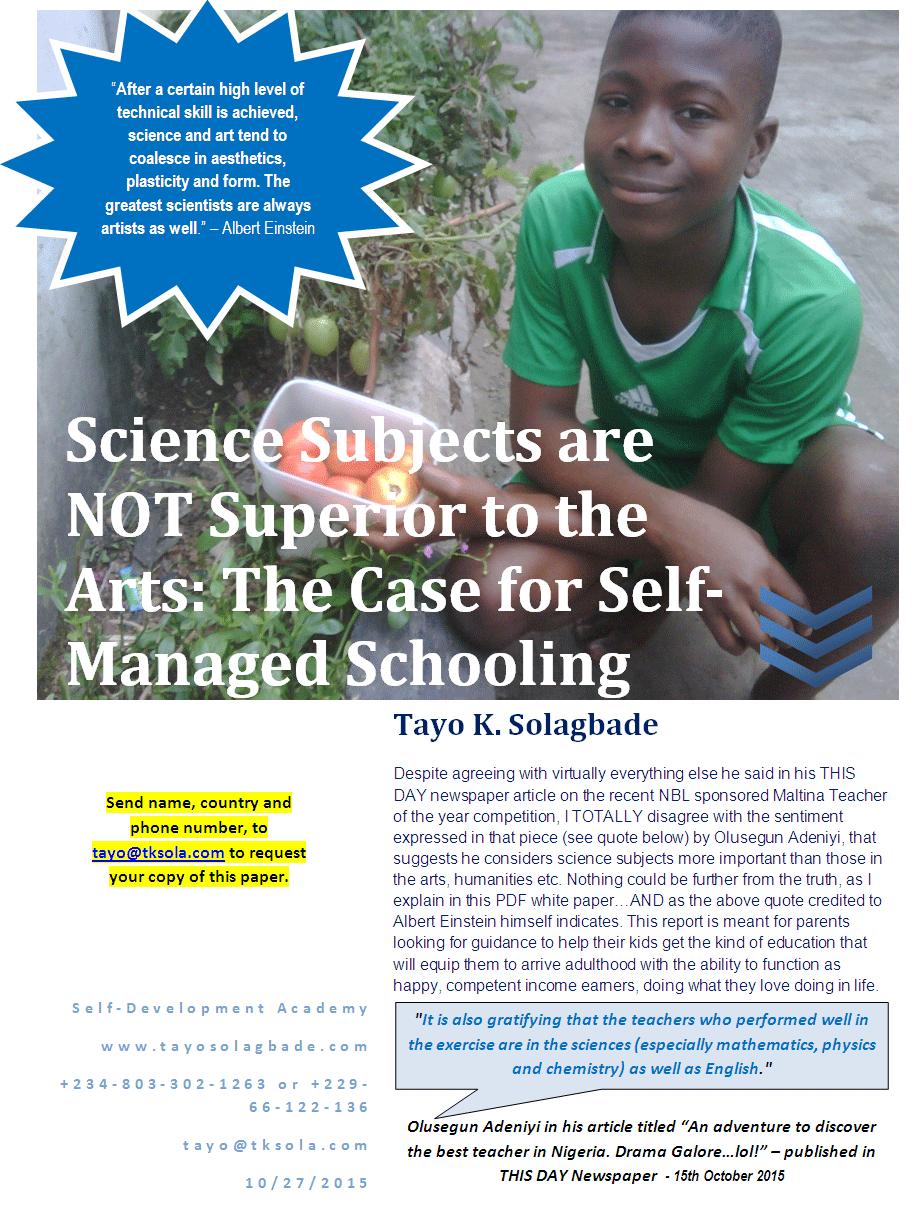 This report is meant for parents looking for guidance to help their kids get the kind of education that will equip them to arrive adulthood with the ability to function as happy, competent income earners, doing what they love doing in life.
"It is also gratifying that the teachers who performed well in the exercise are in the sciences (especially mathematics, physics and chemistry) as well as English." – Olusegun Adeniyi in his article titled "An adventure to discover the best teacher in Nigeria. Drama Galore…lol!" – published in THIS DAY Newspaper  – 15th October 2015
Send name, country and phone number, to tayo at tksola dot com to request your copy of this paper or click here to use a web contact form.
You're reading Science Subjects are NOT Superior to the Arts: The Case for Self-Managed Schooling by Tayo Solagbade, originally posted on his Daily Self-Development (SD) Nuggets™ blog. If you loved reading this post, be sure to follow Tayo on Twitter, Facebook, and Google+.
You may also wish to check out his growing library of tutorial and demonstration videos on Youtube. Click here, to download over 10 resources to boost your personal and work related productivity.
IMPORTANT NOTE:
On 4th May 2014, Tayo's 9 year old domain (Spontaneousdevelopment dot com), was taken over by Aplus.net. Within a few days however, Tayo used his advanced self-taught web development skills to build (and move his website contents into) a SUPERIOR "reincarnation" at http://www.tayosolagbade.com.
Most URLs bearing the old domain name appearing in search engines should now work if "spontaneousdevelopment.com" is replaced with "tayosolagbade.com". If you experience any difficulties finding a page or document, email Tayo at tksola dot com.
Click "Tayo, What Happened to SpontaneousDevelopmentDotCom?" to read a detailed narrative about how the above event occurred :-))
Here's an article Tayo wrote, to inspire others to defy adversity, and bounce back to even greater reckoning at what they do EVERY time:
And he wrote the one below, to explain why losing a domain name, no matter how old NO LONGER determines your online success or otherwise:
A Proven Strategy to Find Profitable Buyers Regardless of Your Domain Name
Source: ExcelVB