2 days ago, on the night of Thursday 19th Nov 2015, after I (once again) exited my favorite Cyber Cafe here in Cotonou, as the last customer few minutes past 11p.m, I visited the ATM at Ecobank Gbejromede
(Hint: For those who wonder why I REFUSE to use a private Internet connection – the experience based analysis I offer at the bottom of this article can open your eyes to ways to save a few thousands from what you spend on Internet access).
The first thing I did was to check the balance to confirm the funds were there* (see left slip in photo below: The 2 ATM slips shown were from the ATM on Thursday night some time after 11p.m)
[*NB: Due to a scary 2013 experience in which the account linked to my card was accessed remotely by fraudsters I only move funds into it when I want to use it, and I leave it close to zero, when I'm done.]
Gbejromede was the branch I'd gotten used to since discovering it accepted my Master card back in April 2015.
But that night it failed me inexplicably – by repeatedly printing out the slip pictured below on the right saying "An invalid transaction was selected" – instead of printing a slip with a revised balance and giving me the cash amount I'd punched in!
So, I did a check for the balance, and it printed what I expected to be there, based on what was left before, and the transfer I knew you did.
But when I tried to take funds again, the same error message came out on yet another slip!
At that point I told the guard there what I was experiencing.
Thinking the problem was machine specific, he called another branch's colleague at "Maromilitaire" branch, telling him I was on my way. Then he called a "Zim" (bike-taxi) to take me there.
When I got there, I tried again, but to my stupefaction, the same thing happened: I got a slip with the same message.
But that was just the beginning…
The drama that ensued would eventually see me leaving the bank after midnight WITHOUT my card…or money from the ATM!
I snatched the printout and called the guard to ask why I could not get cash. We were still talking when I heard the machine asking me to remove my card, in French.
Not knowing there was a potential implication, I ignored as I continue talking to the guard, thinking I would simply go back and get it when done.
How wrong I was!
By the time his colleague came around, he asked to see my card. I turned to pull it out from the ATM and show him, but it was gone! We searched all over the little room, without success.
Then they told me I must have taken it – asking me to check my pockets. I almost flipped, but calmly told them I was sure I had not, all the same tapping all my pockets.
Long story short, their supervisor eventually came around and on hearing my narration, he told me that when I failed to respond the machine had automatically taken in the card as a security measure to prevent someone else from taking it.
Looking at me, he said he was sorry but I would have to go away and return in the morning.
It turned out that both guards themselves did NOT know about this security feature, as it had never happened while they were on duty. We all joked about the fact that it had been a useful learning experience. Then we shook hands, exchanged phone numbers and I left.
At 8:30a.m the next morning of Friday 20th Nov. 2015, I returned as I'd been advised, and in the banking hall, explained what had happened to a female customer service officer who attended to me.
She shook her head in understanding, as I spoke, and eventually explained to me that what happened that night was due to a general network problem that affected ATM's across all their branches.
About 15 minutes later, she'd given me my card, along with my International passport, which had been used to find it (after I'd signed to collect the card).
Then I returned to the ATM Monster (sorry "Machine") to try my luck again.
First I checked the balance, and it was still as then night before. Then I punched in what I needed. This time around, it worked: see left slip below!
As you can see from the left slip's balance, I had about10k FCFA left post withdrawal.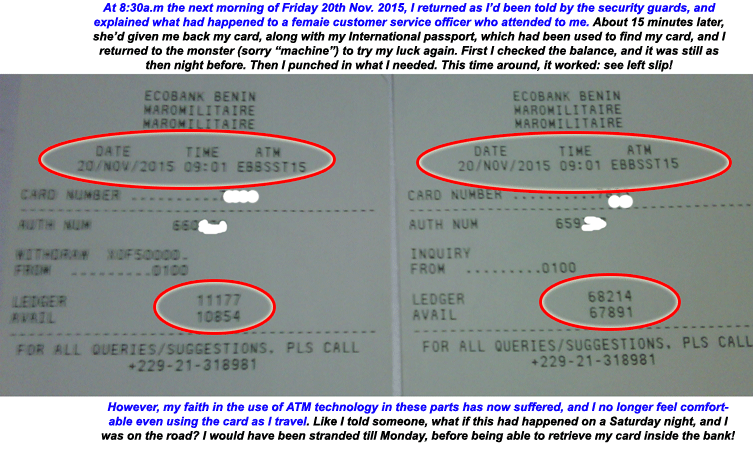 This was due to the fact that the ATM's here seem to have only options that allow withdrawals of 20k FCFA and 50k FCFA upwards.
So I could not take out the 10k FCFA. But I was taking no chances.
On my return to the cafe, I devoted time to battle with the online interface (which has been erratic since I got here, till I moved it out).
Photo: Cooling off with Natural "Coconut" Milk!
It's hard to tell from the photos below, taken with my good friend Moumouni, in front of his mobile phone shop, at Friday 4:40p.m, about 7 hours after I recovered my card from the bank ATM's "tummy", that the unsettling experience that occurred at close to 12 midnight on Thursday 19/11/2015 even took place…LOL!!!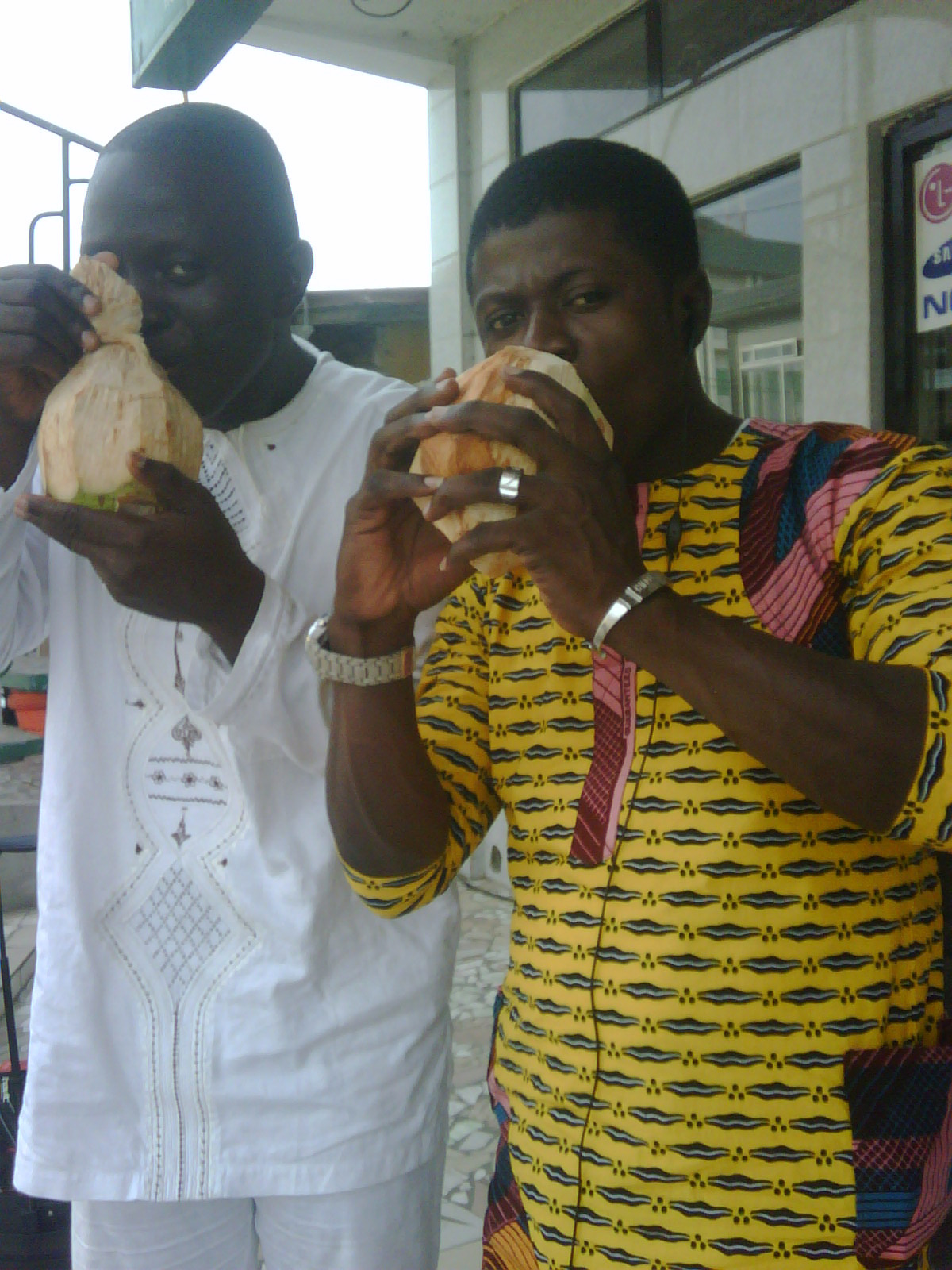 Final Words: 2 Lessons I've learned…
1. Tayo, never ignore an ATM machine when it asks you to take your card out – even if you're angry it has not coughed out the money you want. Before you start looking to see who to complain to, TAKE OUT YOUR CARD!
Imagine if I'd been traveling on Saturday evening, and this happened? I'd have been stranded till Monday!
2. Tayo, stop assuming it's safe to go around with limited cash on you because you have an ATM card..or that it's okay to wait till late at night or the weekend to cash what you need from ATM's
This is not (yet) like Oyinbo land O. Sometimes the ATM "things" can – and do! – fail to work as expected!!!
PS: Looks like I'm just talking to myself with the above, huh?
I hope I've ministered to you as well with my message …otherwise, you may find yourself stranded in a BAAAD place if you fail to make changes to any of the above habits, if you have them!
Have you ever been without cash while traveling – especially in a foreign country where you know no one? Well, I have – several times – and it's not an experience for the faint hearted (click to read how it happened to me in Cameroon in 1999 in my article titled "I Traveled 12 Hours Overnight, By Sea, In A Leaky Boat – From Cameroon To Nigeria – Without Money!").
That's why, concerning this ATM palaver, I've learnt my lesson well O!!!
PS: Why I DO NOT Use a Private Internet Connect, and Prefer to Work From Cafes!
Now, following the question thrown at me about this by a client recently, let me shed light on why I nurse a seeming passion for working from cafes.
You see, I am a VERY heavy duty Internet bandwidth user, sometimes uploading tens of megabytes weekly. As a result, I typically exhaust silly bundles offered by local providers in countries I visit our here within days.
Yet they charge MUCH MORE than I pay for UNLIMITED bandwidth in Cafes I use. Indeed, I purchase 30 hours for approximately N60 per hour here (i.e. N1,800.00) in Cotonou, and it NEVER expires too. That often takes me over 3 weeks to exhaust. As a result, even when I travel, I return to continue using what's left. You cannot do that with the pricey private connections sold by our local providers!
In contrast, a monthly bundle from a local provider I used back in 2014 cost 15k FCFA (approx N5k) for ONE month access after which it would expire regardless of what was left in it.
But apart from erratic connectivity, the bandwidth got exhausted less than 2 weeks after I started work on the client's web marketing project I was doing. Incidentally, it was paid for by the client, but I told him to forget the idea of buying another bundle and simply returned to using the cafe.
Those bundles they sell are only useful to people who do simple non-bandwidth-intensive tasks like checking/sending mails, using facebook etc. Not for private users like me, who work alone, use no office, share no connections and who have to travel and work at the same time, doing "heavy lifting" of data via uploads/downloads etc.
Now, you may wonder how I cope when I do NOT have access to a cafe e.g. after they've closed or at weekends?
Well, my Blackberry keeps me connected round the clock. I get ALL my mails, and am able to browse, send emails, with file attachments etc when necessary if/when I'm away from the cafe (On the average, I pay about N500 to 700 for my Blackberry Internet Access EVERY MONTH, by taking advantage of certain subscriptions options).
And I do all my essential online tasks with my BB – including updating my blog ANYTIME I need to. [Hint: Read my article titled Use Your Smartphone To Boost Your Productivity (5 Tested & Proven Tips) for practical examples based on what I've done using my BB for years]
The best part is that ALL of the above happens for me, at a fraction of the cost of using the fancy private Internet connections the local providers use to fleece most of the uninitiated.
I'm a business user with a focus on lowering my overhead costs of marketing. So, I pay attention to such details, because they can do major damage where it hurts most: the pockets
I'll end by noting what I always ask people when we discuss decision making relating to spending:
Why spend more to get the same outcome, when you can spend LESS, and save money to do other things. Does the fact that you have the money mean you have to spend it without using your God-given intelligence to analyze HOW you do it?
I say NO!
You're reading Drama at Midnight: Disappearing ATM Card Palaver in Cotonou – 2 Lessons Learnt (True Story) by Tayo Solagbade, originally posted on his Daily Self-Development (SD) Nuggets™ blog. If you loved reading this post, be sure to follow Tayo on Twitter, Facebook, and Google+.
You may also wish to check out his growing library of tutorial and demonstration videos on Youtube. Click here, to download over 10 resources to boost your personal and work related productivity.
IMPORTANT NOTE:
On 4th May 2014, Tayo's 9 year old domain (Spontaneousdevelopment dot com), was taken over by Aplus.net. Within a few days however, Tayo used his advanced self-taught web development skills to build (and move his website contents into) a SUPERIOR "reincarnation" at http://www.tayosolagbade.com.
Most URLs bearing the old domain name appearing in search engines should now work if "spontaneousdevelopment.com" is replaced with "tayosolagbade.com". If you experience any difficulties finding a page or document, email Tayo at tksola dot com.
Click "Tayo, What Happened to SpontaneousDevelopmentDotCom?" to read a detailed narrative about how the above event occurred :-))
Here's an article Tayo wrote, to inspire others to defy adversity, and bounce back to even greater reckoning at what they do EVERY time:
And he wrote the one below, to explain why losing a domain name, no matter how old NO LONGER determines your online success or otherwise:
A Proven Strategy to Find Profitable Buyers Regardless of Your Domain Name
Source: ExcelVB