[Tagline: If it can help your farm business, you'll find it in THE FARM CEO™ Newspaper ]
This final issue of The Farm CEO™ for 2015 features 2 news reports about the development and future of Agriculture in Africa – with regard to the crucial role to be played by African youths.
I personally believe that citizens of Africa nations will have to take the initiative to get involved in Agriculture, rather than wait for any concerted efforts from the government. This is not to say that the government cannot deliver. I just believe the drive to engage in Agriculture must come primarily from the people.
We must demonstrate more interest in exploring the income earning opportunities available in direct farm business operation and other aspects of the industry such as processing and marketing.
A good example of an industry doing well, and being driven by the initiative of individual citizens at mostly the micro to small scale level if the PC, Mobile and Internet technology industry.
Very little of the growth we've seen has come from direct government action. Most of it has happened because people saw opportunities and chose to go after them. It is my considered opinion that those of us already engaged in agriculture at various levels are best positioned to SHOW the youths and others, that similar opportunities exist in this industry. If we do it right, they WILL come on board, and then maybe the government's efforts can do them some good from that point on.
Happy holidays and I wish you a prosperous New Year!
PREVIEW
This handbook describes the requirements for building a pond. It is useful to the landowner for general information and serves as a reference for the engineer, technician, and contractor..
==Preview Ends==
******
Here are the headlines, reviews – and links – for this week's featured news items:
[URL] Back Good Quality Website Content With Delivery of Value Promised, to Achieve Web Marketing Success P.1
[PDF] Online Strategies for Direct Farm Marketers P.2
[URL] 5 Farmer's Market Marketing Ideas P.2
[PDF] 101 Guerilla Marketing Ideas: Grow Sales with Zero Budget P.3
[PDF] Agricultural Entrepreneurship Coaching Guide P.3
Below: Screenshot of the cover for Issue No. 30 of THE FARM CEO (Monday 28th December 2015)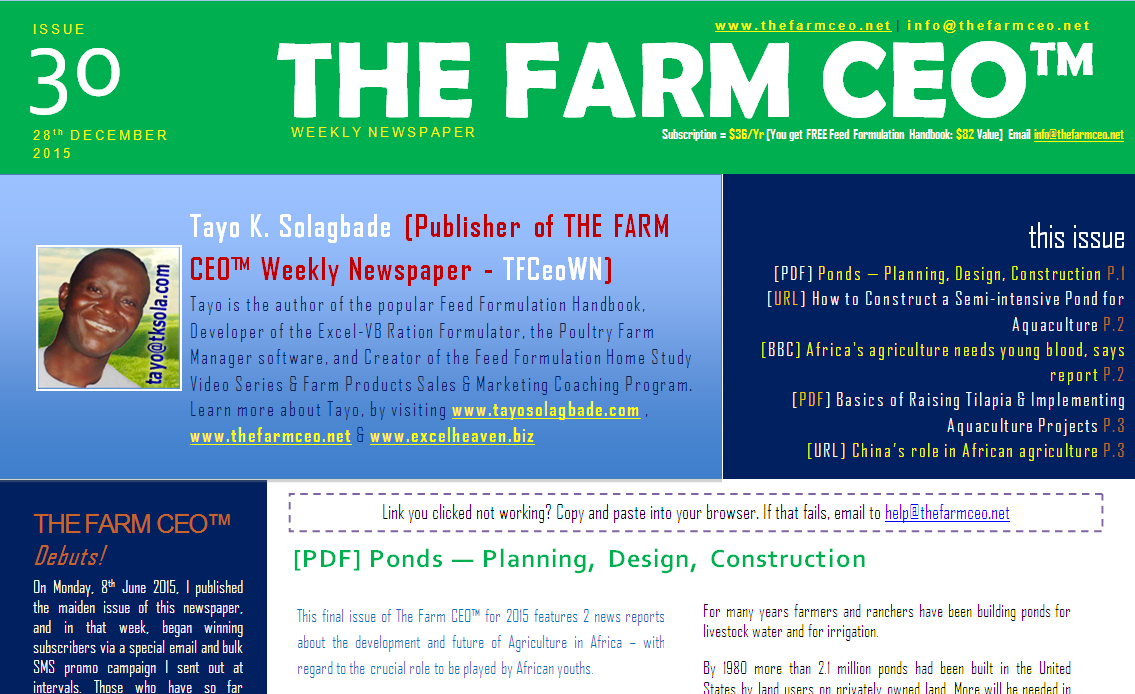 Subscribe to THE FARM CEO, and get this new issue, as well as ALL back issues, in addition to your full subscription of 48 weekly issues.
1) Useful feed formulation/other findings from trusted sources
2) Cost-saving ideas from farm visits as I travel across West Africa.
3) Ads by farm providers/suppliers of all genres.
4). Special promo price offers of my Software and Book products
Full details at http://tinyurl.com/TheFarmCEO
1 year's subscription = 48 issues.
Subscription Fee = $36 USD (approx) N6.8k [You get my $82 USD Feed Formulation Handbook FREE, as well as FREE Bi-weekly ads for YOUR biz]
ARCHIVES: Click here to view previews of ALL past issues of the newspapers
You're reading THE FARM CEO (Issue 30): Ponds — Planning, Design, Construction, How to Construct a Semi-intensive Pond for Aquaculture, Africa's agriculture needs young blood, says report, Basics of Raising Tilapia & Implementing Aquaculture Projects, China's role in African agriculture by Tayo Solagbade, originally posted on his Daily Self-Development (SD) Nuggets™ blog. If you loved reading this post, be sure to follow Tayo on Twitter, Facebook, and Google+.
You may also wish to check out his growing library of tutorial and demonstration videos on Youtube. Click here, to download over 10 resources to boost your personal and work related productivity.
IMPORTANT NOTE:
On 4th May 2014, Tayo's 9 year old domain (Spontaneousdevelopment dot com), was taken over by Aplus.net. Within a few days however, Tayo used his advanced self-taught web development skills to build (and move his website contents into) a SUPERIOR "reincarnation" at http://www.tayosolagbade.com.
Most URLs bearing the old domain name appearing in search engines should now work if "spontaneousdevelopment.com" is replaced with "tayosolagbade.com". If you experience any difficulties finding a page or document, email Tayo at tksola dot com.
Click "Tayo, What Happened to SpontaneousDevelopmentDotCom?" to read a detailed narrative about how the above event occurred :-))
Here's an article Tayo wrote, to inspire others to defy adversity, and bounce back to even greater reckoning at what they do EVERY time:
And he wrote the one below, to explain why losing a domain name, no matter how old NO LONGER determines your online success or otherwise:
A Proven Strategy to Find Profitable Buyers Regardless of Your Domain Name
Source: ExcelVB