Since the night of Thursday 17th January 2016, I've once again found myself forced to go out       of my way to help some total strangers deal with abusive treatment meted out to them for no justifiable reason. Below is a verbatim transcript of a letter I sent as a PDF to an email address (presspologun@hotmail.com) given out by the Ogun State Commissioner of Police, for use by members of the public to communicate their grieviances.
Along with this letter, I also attached a PDF of my 2 page letter I dropped off at the Lagos State Attorney General's Office on Friday 22nd January 2016, as well as:
(1) PDF version of a weekly Security Self-Help Newsletter I now print/distribute by hand at my own expense
(2) Photos of the front and back of a 2 part audio DVD product titled "Know Your Rights Against the Police" by Barrister Manual Akinshola, which I've resolved to buy/distribute FREE copies of to others.
(3) Download link to a PDF report titled "CRIMINAL FORCE: Torture, Abuse & Extrajudicial Killings by the Nigeria Police Force" (click to view or go to http://tinyurl.com/tksPoliceReport)
I publish all this here, in the public space, for the records [Note that I found ALL the contact information for the CP and PPRO Ogun State soley through relentless use of online searches conducted over a 72 hour period following the incident]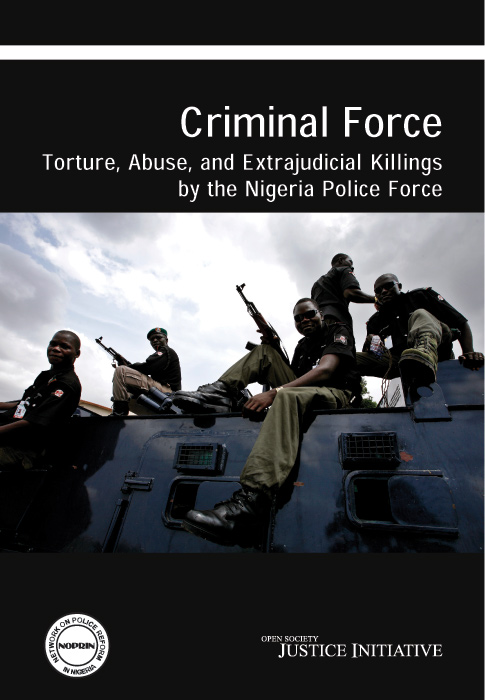 Below: 1 page letter to Ogun State Commissioner of Police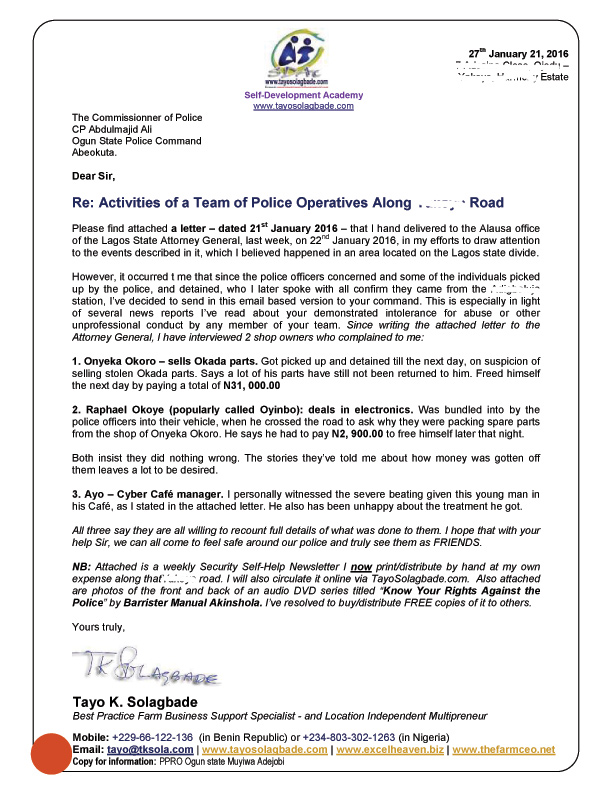 Below: 2 page letter to Lagos State Attorney General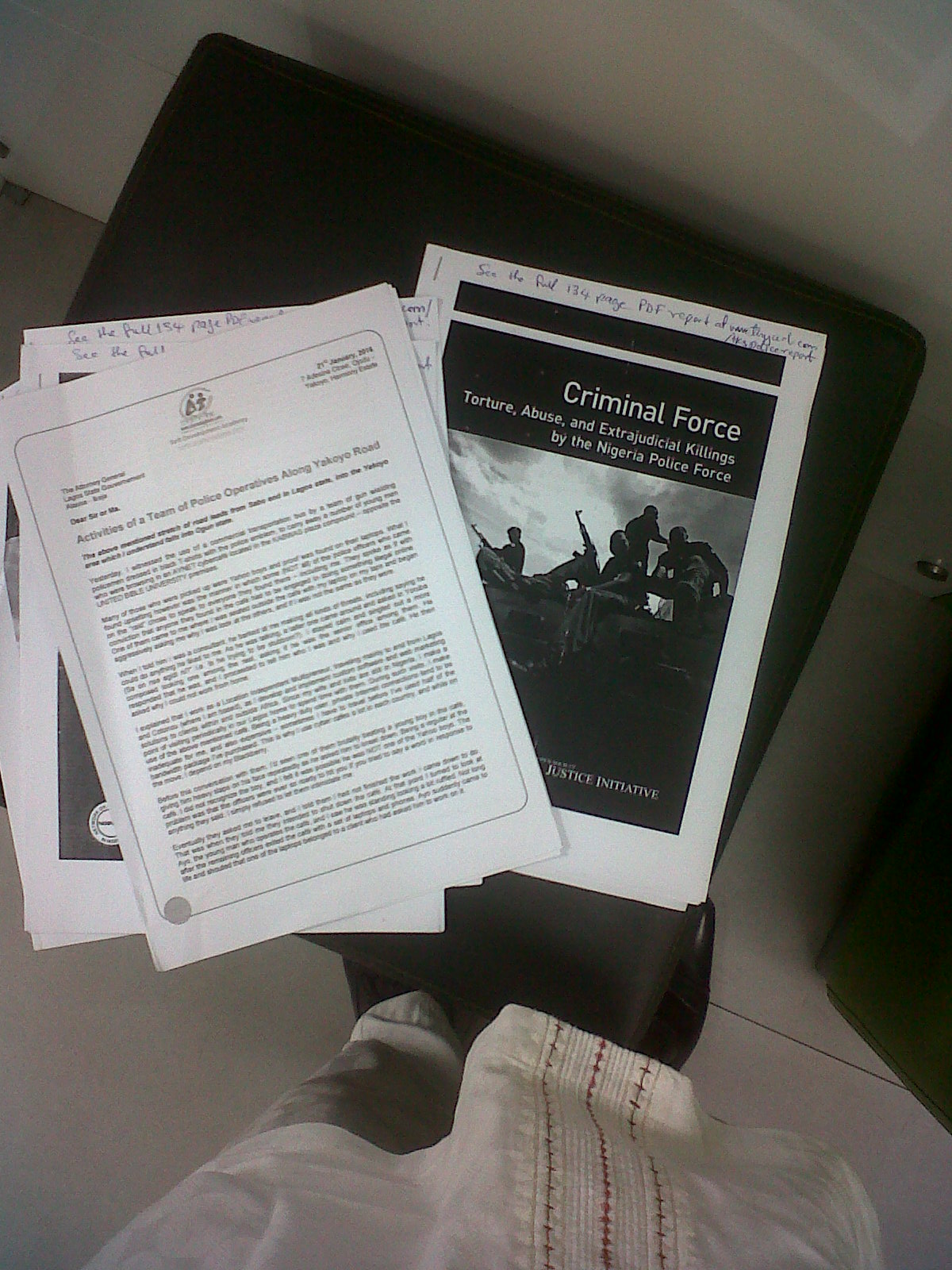 Below: Photo of the front and back of my copies of the 2 part audio CD series titled "Know Your Rights Against The Police" – by Barrister Manuel Akinshola
I got the 2 part audio version of this book for myself and my kids last year. Barrister Manuel Akinshola's NGO based efforts are truly worthy of commendation. Note that I do NOT know him, have NEVER spoken to or met him before. He does not even know I'm doing THIS, so there's no hidden motive here. I just want you to have what I and my kids have, to protect our rights.
Despite my best efforts, I've been unable to reach Barrister Akinshola, or any of his team members at PECO, via the phone numbers I've been able to obtain. Last year, I bought the 2 part audio CD from a shop they opened along the Ojodu-Berger axis in Lagos. A recent visit to the place revealed it still bears their banners, but remains shut, and seems to have been so for a while.
I therefore advise any persons keen to access the book or the audio CDs to visit the web links on the back of the CD covers or go directly to http://peco-ng.org/tocs/table-of-contents-police.php and use the contact details/information provided there.
Below: Screenshot of Barr. Akinshola's LinkedIn.com profile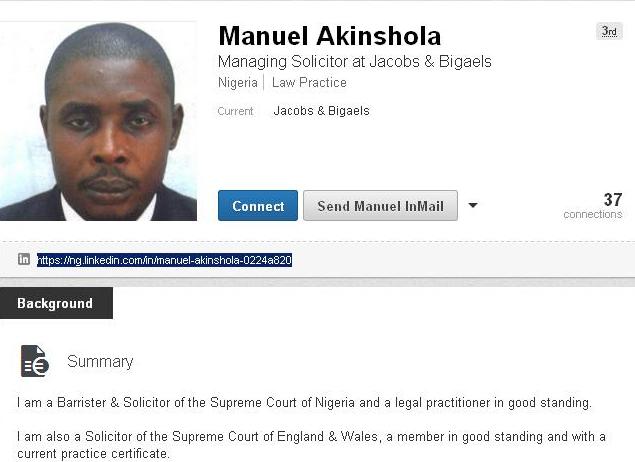 Below: 2 page version of the Table of Contents of Barr. Akinshola's Know Your Rights Against The Police, that I created as a PDF and now print/distribute at my own expense, to interested persons.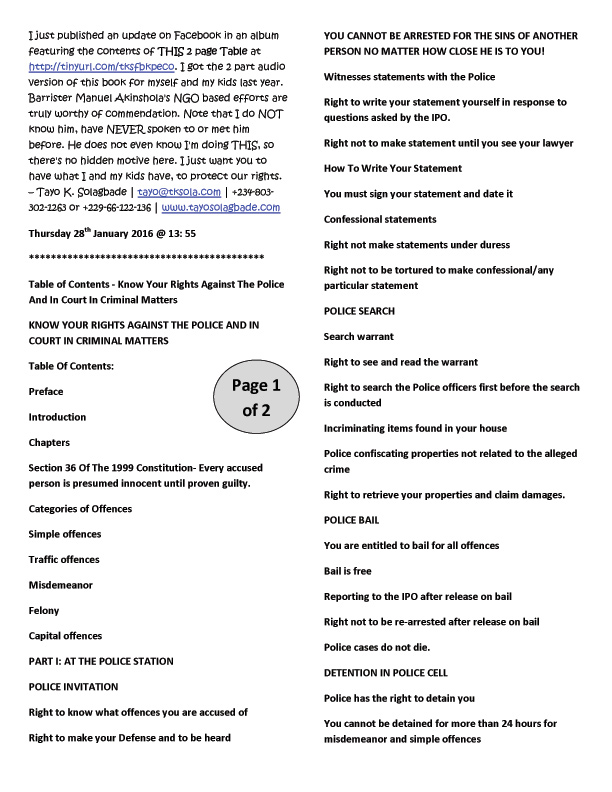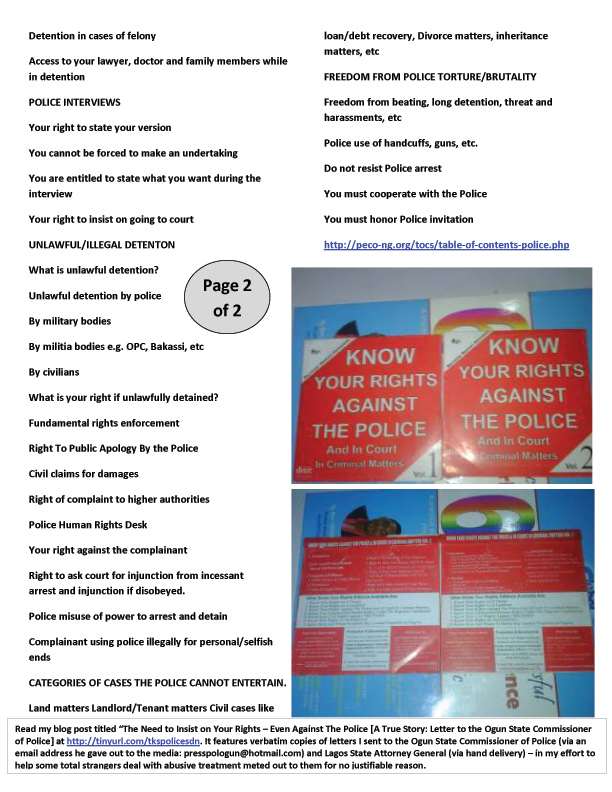 Below: Image flyer published by HQ of Nigeria Police – Complaints Response Unit (Do you have any complaints about your contact with any of our officers?)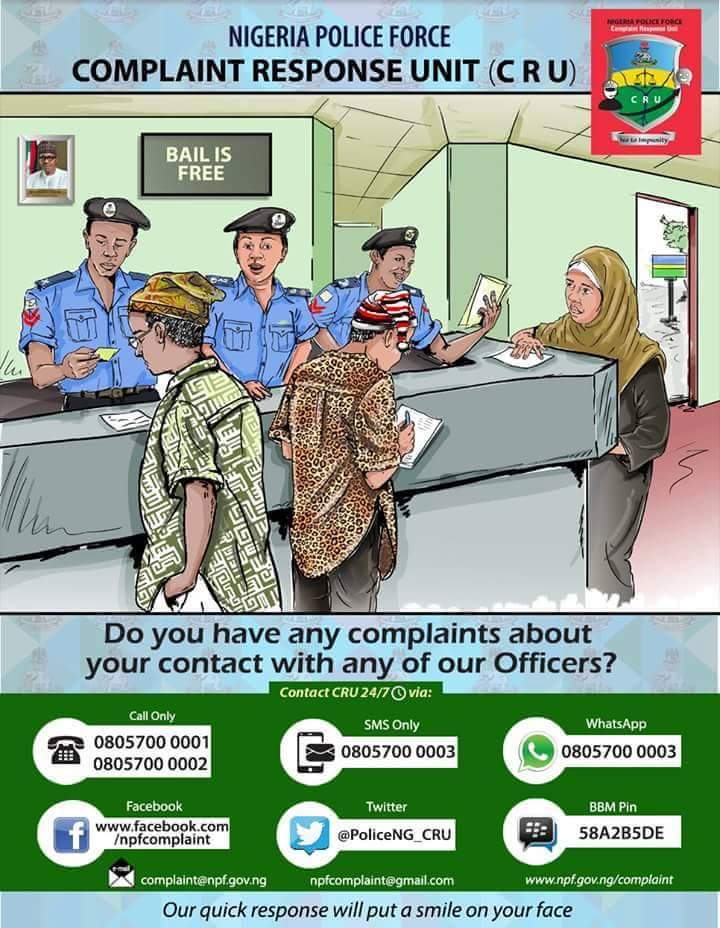 Page updated: 28th January 2016 @ 1500 HRS
You're reading The Need to Insist on Your Rights – Even Against The Police [A True Story: Letter to the Ogun State Commissioner of Police] by Tayo Solagbade, originally posted on his Daily Self-Development (SD) Nuggets™ blog. If you loved reading this post, be sure to follow Tayo on Twitter, Facebook, and Google+.
You may also wish to check out his growing library of tutorial and demonstration videos on Youtube. Click here, to download over 10 resources to boost your personal and work related productivity.
IMPORTANT NOTE:
On 4th May 2014, Tayo's 9 year old domain (Spontaneousdevelopment dot com), was taken over by Aplus.net. Within a few days however, Tayo used his advanced self-taught web development skills to build (and move his website contents into) a SUPERIOR "reincarnation" at http://www.tayosolagbade.com.
Most URLs bearing the old domain name appearing in search engines should now work if "spontaneousdevelopment.com" is replaced with "tayosolagbade.com". If you experience any difficulties finding a page or document, email Tayo at tksola dot com.
Click "Tayo, What Happened to SpontaneousDevelopmentDotCom?" to read a detailed narrative about how the above event occurred :-))
Here's an article Tayo wrote, to inspire others to defy adversity, and bounce back to even greater reckoning at what they do EVERY time:
And he wrote the one below, to explain why losing a domain name, no matter how old NO LONGER determines your online success or otherwise:
A Proven Strategy to Find Profitable Buyers Regardless of Your Domain Name
Source: ExcelVB