This is a generic introduction page that is accessible without a password. All other pages for members of the club will require you to use your USERNAME and PASSWORD, which will be emailed to you.
Welcome, and congratulations for joining my Excel Heaven Visual Basic Club. If you've NOT yet done so, take a moment to LIKE my Facebook page via http://www.tayosolagbade.com/fbk, so you can keep track of latest updates I publish. Click here.
By taking the decision to learn how to automate MS Excel using Visual Basic for Applications (VBA), you've put yourself on track to boosting your productivity in terms of your data handling, analysis and report generation abilities.
Whether you an independent consultant or career person in paid employment, knowing how to automate MS Excel using VBA is a tried and tested means to outperforming your rivals or competitors.
But learning to automate MS Excel using VBA is NOT easy work – you will NOT be able to do it overnight.
If I told you otherwise, I would be lying. I've been doing spreadsheet automation for business users for 2 decades now. So the expertise you see on display on my site was not acquired in a short time. However, I have developed smart methods for teaching what I know to willing others: The keyword there is WILING.
For instance, my own kids, who range in age from 9 to 16 years old are undergoing home based tutoring as members of the Kiddies version of my Excel-VB club. I do this because I intend for them to gradually take over selling of, and modifying/customizing the software I sell to clients.
It is You need to be prepared to do LOTS of reading, and WATCHING/LISTENING in addition to even MORE DOING, based on your unique work related needs.
As long as you're willing to do the work required, I assure you that you WILL develop the competence to automate MS Excel in a way that enables you deliver performances that boost your prestige, recognition and INCOME.
Take your time to study the resources linked to below. It is crucial to your ability to make the most of what you will learn about Excel Automation as a member of my club. If you have ANY questions or need clarification on ANY aspects, do NOT hesitate to call or email me.
1. ABOUT THE CLUB
Click the links below to watch the video version of my 9 page Slide show Presentation, which explains details of what you will be learning – and doing.
[NB: Check your email for the 9-page MS Power Point Slide show I have sent you]
Who is This MS Excel Heaven™ Visual Basic Club & Competition For and Why…?
The Justification for Adopting Excel VB Automation: Many Africans still don't get it!
MS Excel Heaven Visual Basic Competition: To compete, you must be a member of SDAc's Excel-VB club
[Video 4 of 9] MS Excel Heaven VB Competition: But Why a Competition on MS Excel-VB Automation?
Video 5 of 9: Eligibility and Features/Requirements for Membership
Video 6 of 9: What You Can Do: Participate or Partner…!
Video 7 of 9: Get World Class Excel-VB Solutions Development When You Join My Club
Video 8 of 9: Brief Bio – About Me – In Paid/Self-Employment
2. SAMPLE EXCEL-VISUAL BASIC AUTOMATION TUTORIALS
1. Create a Macro to Format Your MS Excel Invoice in Different Currencies [Part 1 of 2]
2. This list will be updated during the week
3. EXCEL-VISUAL BASIC SOFTWARE DEMO VIDEO
Watch the videos below, to see examples of the dummy-proof, custom automated Excel-VB apps I build, being used by me. If you do the work required, with diligence and commitment, using the learning resources I give you, be sure that over time you WILL be able to build even better apps than these.
Part 1 of 3: Preparing Your Company(or Client Company)'s Pay slips Using MS Excel
Part 2 of 3: Preparing Your Company(or Client Company)'s Pay slips Using MS Excel
Part 3 of 3: Preparing Your Company(or Client Company)'s Pay slips Using MS Excel
[Part 1 of 2] Tayo Solagbade's Excel-VB Election Results Compiler & Reports/Charts Generator
[Part 2 of 2] Tayo Solagbade's Excel-VB Election Results Compiler & Reports/Charts Generator
Excel VB Business Contacts Manager for Speakers Marketers Consultants and Entrepreneurs
I included the above examples for illustration. There are many more video demos in my Youtube channel, of my commercial Excel-VB software that I sell to a global paying audience. Click here to visit my channel.
Two of my flagship products that have gotten me the most attention over the years are:
1. Excel-VB Ration Formulator – watch 3 part video here.
2. Poultry Farm Manager – watch 16 videos here.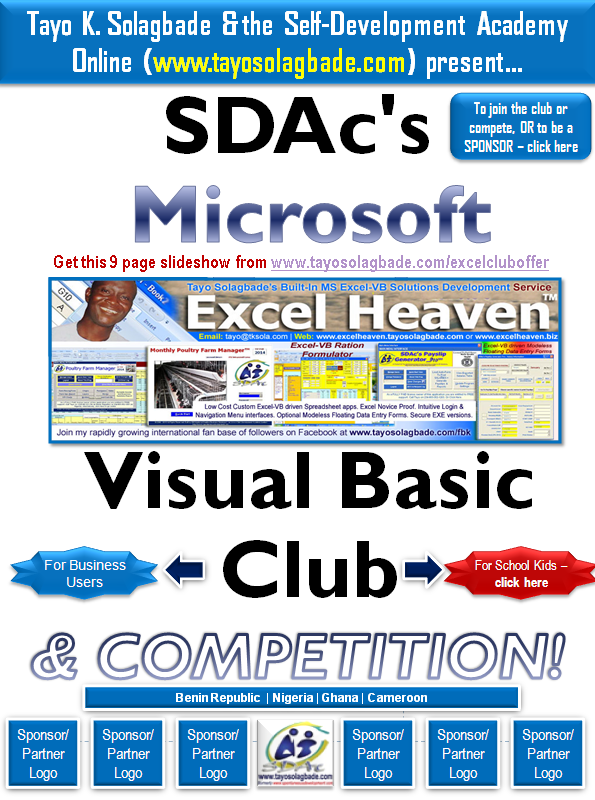 You're reading Welcome to my MS Excel Heaven Visual Basic Automation Club [Introductory Videos You Need to Watch] by Tayo Solagbade, originally posted on his Daily Self-Development (SD) Nuggets™ blog. If you loved reading this post, be sure to follow Tayo on Twitter, Facebook, and Google+.
You may also wish to check out his growing library of tutorial and demonstration videos on Youtube. Click here, to download over 10 resources to boost your personal and work related productivity.
IMPORTANT NOTE:
On 4th May 2014, Tayo's 9 year old domain (Spontaneousdevelopment dot com), was taken over by Aplus.net. Within a few days however, Tayo used his advanced self-taught web development skills to build (and move his website contents into) a SUPERIOR "reincarnation" at http://www.tayosolagbade.com.
Most URLs bearing the old domain name appearing in search engines should now work if "spontaneousdevelopment.com" is replaced with "tayosolagbade.com". If you experience any difficulties finding a page or document, email Tayo at tksola dot com.
Click "Tayo, What Happened to SpontaneousDevelopmentDotCom?" to read a detailed narrative about how the above event occurred :-))
Here's an article Tayo wrote, to inspire others to defy adversity, and bounce back to even greater reckoning at what they do EVERY time:
And he wrote the one below, to explain why losing a domain name, no matter how old NO LONGER determines your online success or otherwise:
A Proven Strategy to Find Profitable Buyers Regardless of Your Domain Name
Source: ExcelVB