If all goes according to plan, this 37th PDF issue of The Farm CEO will be the last of the weekly version. Like I mentioned in the last week's issue, I've been re-thinking the content strategy for this publication to enable me deliver useful information to paid subscribers and clients in a manner that makes it easy for them to find what they want, when they need it, with minimal fuss or hassle.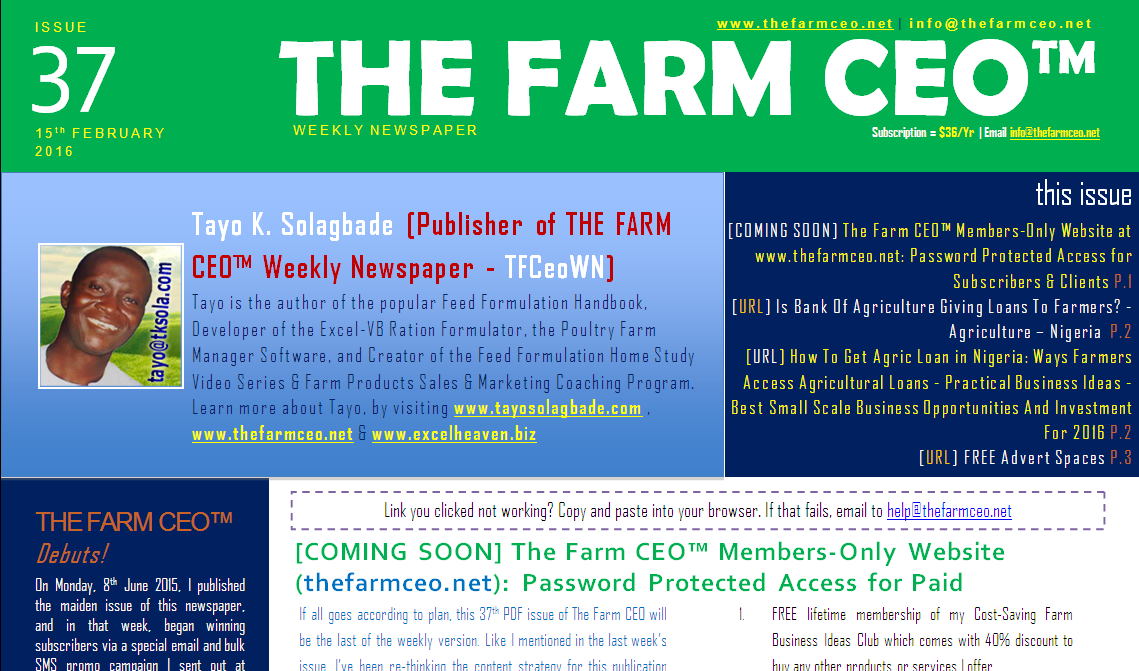 This is why I've come to the decision to convert this publication into a full featured online newspaper, with possible publication of a physical/print quarterly version.
In other words, starting next week, or latest the first Monday of March, The Farm CEO™ newspaper will become an online newspaper at www.thefarmceo.net with content accessible only by paid members using login details that will be assigned to them when they sign up.
I must admit that this new arrangement will also make life much easier for me in terms of putting together and publishing information for readers in a timely manner. In case you're not aware, The Farm CEO™ subscription comes at an annual fee of $65 USD.
In certain cases, I have given out discounted or FREE subscriptions to new Farm CEO clients who purchase products or services from me, up to a certain amount.
However, in the new dispensation we're entering, I intend to give ALL my existing paid Farm CEO clients, who are also lifetime members of my Cost-Saving Farm Business Ideas club FREE lifetime subscription to The Farm CEO™ newspaper online.
In other words, once you purchase a solution from me, to the tune of N20,500.0 (Twenty Thousand Five Hundred Naira) or more, you will automatically get:
1. FREE lifetime membership of my Cost-Saving Farm Business Ideas Club which comes with 40% discount to buy any other products or services I offer
2. FREE lifetime subscription to The Farm CEO newspaper online.
Why this strategy?
In case the above question crossed your mind, the answer is simple.
I want to deliver value to my target audience of serious minded Farm Business Owners and stakeholders, in a manner that ensures they are able to discover and make productive use of that value, as and when the need to do so impresses itself on them.
My experiences over the past decade have taught me that each person will advance at his/her own personal rate of learning and discovery. As a result, I've found that some CEOs waited 3 to 5 years to make a purchase from me, counting from the first time they actually connected with me via my website or through email/phone.
At the same time, there have been other Farm CEOs who came to me knowing exactly what they wanted to do, and what they needed to get it done, Then having seen the range of solutions I had on offer, they simply made contact and (sometimes in a matter of hours) made payment to get it from me!
Through this newspaper's (soon-to-be) paid members-only online platform at www.thefarmceo.net, I want to offer them a place of psychological comfort that they can reach out for access to information and education to solve problems and/or discover new ways to better pursue their valued goals!
You're reading THE FARM CEO (Issue 37): The Farm CEO™ Members-Only Website at www.thefarmceo.net: Password Protected Access for Subscribers & Clients, Is Bank Of Agriculture Giving Loans To Farmers? – Agriculture – Nigeria, How To Get Agric Loan in Nigeria: Ways Farmers Access Agricultural Loans – Practical Business Ideas – Best Small Scale Business Opportunities And Investment For 2016 by Tayo Solagbade, originally posted on his Daily Self-Development (SD) Nuggets™ blog. If you loved reading this post, be sure to follow Tayo on Twitter, Facebook, and Google+.
You may also wish to check out his growing library of tutorial and demonstration videos on Youtube. Click here, to download over 10 resources to boost your personal and work related productivity.
IMPORTANT NOTE:
On 4th May 2014, Tayo's 9 year old domain (Spontaneousdevelopment dot com), was taken over by Aplus.net. Within a few days however, Tayo used his advanced self-taught web development skills to build (and move his website contents into) a SUPERIOR "reincarnation" at http://www.tayosolagbade.com.
Most URLs bearing the old domain name appearing in search engines should now work if "spontaneousdevelopment.com" is replaced with "tayosolagbade.com". If you experience any difficulties finding a page or document, email Tayo at tksola dot com.
Click "Tayo, What Happened to SpontaneousDevelopmentDotCom?" to read a detailed narrative about how the above event occurred :-))
Here's an article Tayo wrote, to inspire others to defy adversity, and bounce back to even greater reckoning at what they do EVERY time:
And he wrote the one below, to explain why losing a domain name, no matter how old NO LONGER determines your online success or otherwise:
A Proven Strategy to Find Profitable Buyers Regardless of Your Domain Name
Source: ExcelVB