When I decided to become – and later begin calling myself – a MULTIPRENEUR in 2004 (2 years after I became a startup), many people criticized me for "doing too many things".
Some said I was trying to be a "Jack of All Trades" and anytime I had a setback they readily pointed out that THAT was the cause.
But I knew better, and simply ignored them – because my experiences had taught me that if I was to survive the harsh socio-economic environment I had to operate in as an entrepreneur, I needed to function as a multi-skilled entrepreneur aka Multipreneur.
The above is why it was intriguing, if not somewhat amusing for me to come across an article titled "Why entrepreneurs need multiple competencies" – on the website for a Nigerian National newspaper (Business Day).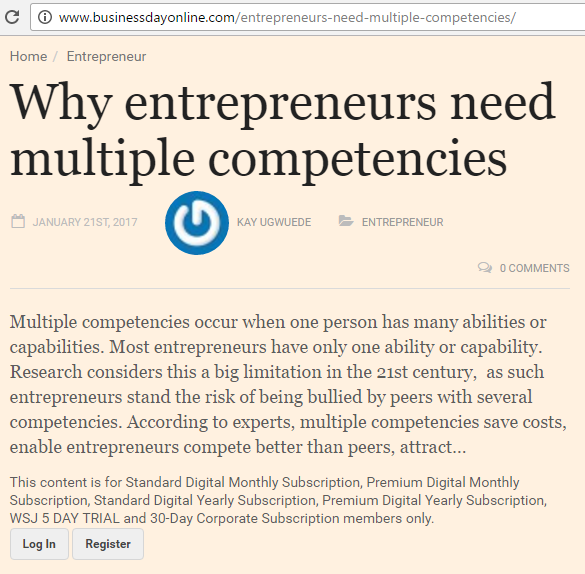 A portion of the article's abstract (reproduced below) really caught my attention:
"According to experts, multiple competencies save costs, enable entrepreneurs compete better than peers, attract…" Really? According to "experts" – what experts???
You mean like those who constantly lectured me in my startup years about the need to NOT do too many things, when I chose to use my "multiple competencies" to make more money with less effort, in less time and using fewer resources?
Experts? Huh…what a joke!
If truth be told, without my deliberately nurtured HABIT of developing and using my multiple competencies, I would have quit my business a long time ago, instead of outlasting adversity I've faced, by thriving in spite of repeated setbacks and disappointments.
My multipreneurial aptitude kept me going each time, because I always had a new or different skill, knowledge or attitude I could apply to get myself back on track each time I derailed, or to leapfrog to a new level of achievement as the need arose.
Sadly, when I was starting out, it was almost impossible to find people to respect and encourage me for displaying this trait in my society.
Most established entrepreneurs and so called experts frowned seriously at my tendency, and told me it was going to do me more harm than good.
Yet, I kept recalling how my abilities were saving me money, time and effort and so I knew they were wrong. What was more, at a point, I began to use my skills to help those who had cast aspersion on me for using them.
That was when I realized they had no clue what they were talking about when they were criticizing me. So I decided to begin writing about Multipreneuring, sharing true stories from my personal experiences of succeeding with it.
At the bottom of this article, I've appended links to some of those articles I've written on multipreneuring or what I like to call being a "Jack of Many Trades"
Today I have established a firm reputation as a reliable provider of a complementary mix of multidisciplinary solutions to clients within and outside Africa (see www.tayosolagbade.com, this blog, www.thefarmceo.net, www.excelheaven.biz and www.tksola.com – and relevant links on each site).
Hopefully, more people in this part of the world (Nigeria/Africa) will realize that developing and using multiple competencies is a sure way to boost one's chances of succeeding in ANY field, regardless of the challenges you may have to face.
Related Articles
1. No. 128: Using Location Independent Multipreneuring to Achieve Public Speaking Success
2. If You Lack Capital, Intelligent Multipreneuring Can Help You Succeed!
3. More Real-Life Proof that Being an Intelligent Jack of Many Trades (aka Multipreneur), Can Make You Succeed More Often
4. You can SUCCEed MORE by being a Multipreneur – A True Story (Hint: New Book Coming Soon)
5.  To Achieve Uncommon Success, Avoid Specializing [Hint: New York Times Article About Steve Martin's Amazing Success As a Multipreneur]!
6. Being a Jack of All Trades Doesn't Mean You're a Master of None – by Melanie Pinola on LifeHacker.com
7.  Knowing a Little of Everything Is Often Better Than Having One Expert Skill – by Adam Dachis on LifeHacker.com
Source: ExcelVB