He was NOT smiling when we met, face to face, for the first time, today – and for good reason too.
My Excel-VB Poultry Farm Manager which I'd personalized and emailed to him 4 days earlier, after I received his payment, had NOT once launched successfully for him to use!
NB: He is the VERY first buyer of my Excel-VB app I am having to meet face-to-face, post-sales, since 2012, to resolve the problem he reported having. What I found from examining my app on his PC clearly revealed I could NOT have helped him without doing so. However, the modified version I'm creating for him will addresss the needs of any others – though they are likely to be few.
I DELIBERATELY took the photo on the left when he arrived to capture the mood at the start of our interactions. By the time we were parting ways however, he was ALL smiles, and I'd even had a chat with his wife in French (after he learnt that I could speak the language).
Apart from the photo on the right (showing us smiling), I got him to do a short video interview in which he stated his satisfaction with the progress made, and he noted how intuitive/user-friendly the app was, from his very first use right there.
Tomorrow – Monday 27th February 2017 – I will be sharing insights from the full story of our interactions, ending with the video. My purpose for the above, and what is to come tomorrow? It's simple: To make it clear that I DELIVER what I PROMISE to every client, NO MATTER WHAT IT TAKES.
Watch out for the VERY interesting full story in Issue 55 of my Performance Improvement Ideas newsletter tomorrow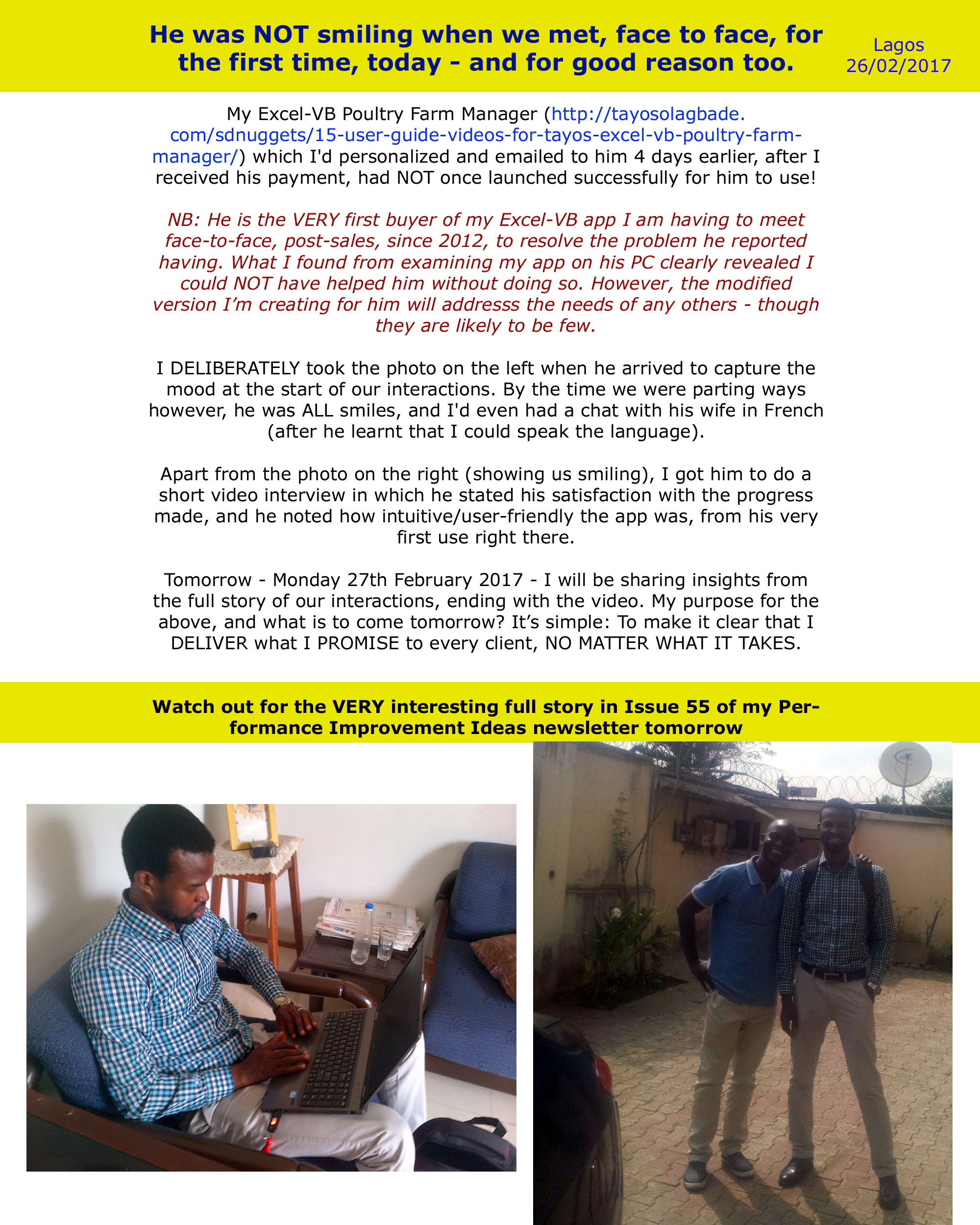 Source: ExcelVB