In this issue of the Farm CEO newspaper, I announce a 2-in-1 promotional service offer that may interest members of my Farm Business Ideas club. See PDF and image Mind Map  attached to the email broadcast:
I actually sent a personalised version to one of 2 most recent Farm CEOs who purchased my farm business support products. The offer comes in 2 parts outlined below:
Dear All,

Our phone discussion regarding my farm business support products that you purchased refers.

I offer you the following 2-in-1 combination of specially discounted solutions to support you at this early startup phase of your farm business operation.

Get FREE Customization of your Excel-VB Poultry Farm Manager for ONE YEAR (Save over N150k)

Over the course of ONE full year, I will modify your Farm's Excel-VB Poultry Farm Manager to meet any additional needs we identify and agree on for your farm business.

This includes accommodating the various aspects of daily best practice operational needs you have.

This will ensure you and your team members have ready access to required documents, farm record forms and reports that will be auto generated for use from custom interfaces in the app.

Get One year Basic Web Marketing Support to boost name/brand recognition and attract profitable paying bulk buyers for your Farm (Save Over N150k)

If you take up FREE customization above, (I,e offer 1), you will get items 1 to 4 of my Web Marketing System shown in the mind map image attached to this email (wms-pricing.jpg) – completely FREE for 1 full year (you purchase domain/hosting with me) – to boost your marketing reach and impact.

Click here to request the full PDF download.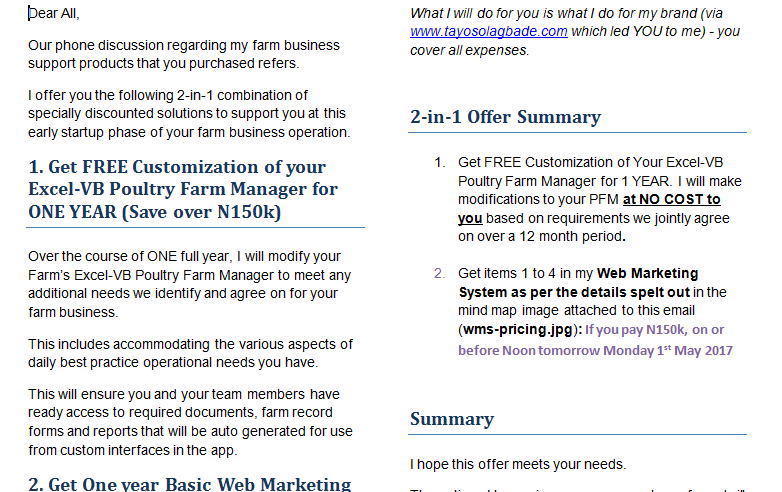 Source: ExcelVB