If you're like most people you would welcome invitations from more people who want to connect with you on various social media platforms you use.
But – as recent experiences of many continue to show – if you indiscriminately say "YES" to such invites, sometimes some of those "people" may end up being "fake people" – using phony accounts.
Most of us know this can happen on platforms like Facebook and Twitter, but only few of us are aware that it ALSO happens on LinkedIn – and has been with increasing frequency over the years!
The challenge, for you, will be how to detect such imposters and avoid accepting them into your network, so they do not cause you major pain or worse, down the line.
I've compiled a listing of articles that share expert tips and strategies for detecting these fake users and protecting one's self from them.
Below I publish preview of a feature article, ending with a link to the full piece as well as links to several others articles on the same theme:
1. Fake LinkedIn profiles used by hackers
Mr O'Brien had some tips for LinkedIn users worried that they might have befriended a hacker.
"You can do a reverse image search by dragging and dropping the profile picture into Google Images and see what it brings up.

"Copying and pasting the job information in Google can also reveal whether it has been taken from somewhere else."

Iranian hackers
Twitter and Facebook also have problems with fake accounts but LinkedIn seems to be particularly attractive to hackers, said Mr O'Brien.

"It reveals the greater sophistication of cyber-criminals that they are prepared to play the long game by gaining information for future attacks in this way," he said.
It is not the first time that researchers have pointed out the dangers of fake LinkedIn profiles.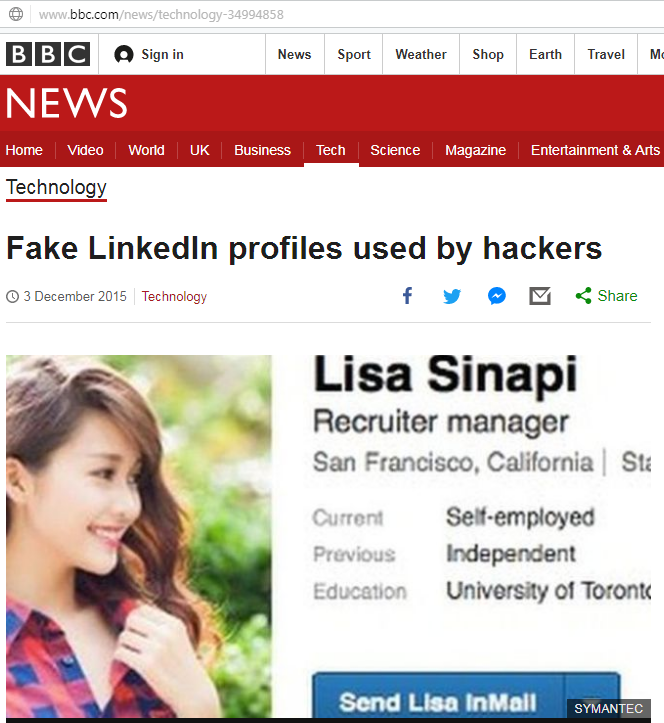 http://www.bbc.com/news/technology-34994858
2. Facebook Now Automatically Detects Imposter Accounts
A feature that will automatically alert you if someone is impersonating your Facebook profile is the latest security enhancement for users of the world's largest social network. Approximately 75 percent of Facebook profiles are now automatically alerted when imposters use their profile photo and user name to create a fake account, Mashable reports.

If an imposter is detected, the system automatically alerts the real user account. That person can then flag the profile as an impersonation, and Facebook's security team is notified to delete the account.

Impersonation is not a widespread security threat for Facebook users, but women in particular are vulnerable to imposters who create fake profiles to harass them.
https://www.entrepreneur.com/article/272961
Below are links to other educative pieces, written by competent experts, that I recommend you read, to be informed and armed to protect yourself against these phonies!
1. Fake LinkedIn accounts want to add you to their professional network
2. 3 Stunningly Good LinkedIn FAKE Profiles
3, How to spot a fake profile on LinkedIn
I'm on a mission to compile and feature as many informative and educative articles as I can find on this subject to help any interested persons.
Apart from the fact that it is the right thing to do, I also do this because I want to help others avoid the needless waste of time and effort those who do these silly things cause otherwise serious minded persons – like myself – to incur online.
Indeed, over the past few weeks I've had a rash of pranksters and prospective hackers try various ways to get at me, and it's been most irritating. But I often know enough of what to do to protect myself. Yet I never stop taking up opportunities to learn more (hence my efforts to research and study this problem). I recommend you adopt a similar mental attitude.
Source: ExcelVB