This is a review (by Tayo K. Solagbade, publisher of The Farm CEO™ newspaper) of a thought provoking paper presented by Dr. Ayoola Oduntan – the National Chairman of the Poultry Association of Nigeria – at the 2015 Poultry Summit held in Lagos.
******
Dr. Oduntan makes a compelling case for concerted efforts to be channeled towards boosting global food production to keep up with the rapid population growth across the world. Eye opening statistics that among other interesting perspectives feature Nigeria as the leading producer of chicken meat and eggs boost the impact of this well researched presentation.
Dr. Oduntan notes the inevitable limiting effect of the ban on use of cages in Europe, combined with the increasing "campaign for welfare chicken" in the same region.
On the other hand African markets remain largely open for major growth and expansion.
He however notes that feed costs may continue to rise due to diversion of maize to ethanol production – which has further increased demand pressures on that key poultry feed ingredient.
In the rest of the paper, he proceeds to provide an interesting review/analysis of the different areas of poultry production –layers, broilers etc – noting challenges faced, such as rising cases of rearing depletions, and the possible link to vaccines used.
The highlight of the paper was however the challenge of rising feed costs, which plagues farmers today. Soyabeans and Maize continue to remain limited in availability, even as their prices rise. To meet the needs of the industry, heavy importation has to be done.
All of that inevitably adds to operating costs, leading to higher prices passed to the consumers – making poultry meat increasingly expensive.
Reading through this paper, I got the distinct impression – which his closing statement seems to support – that Dr. Oduntan put it together, especially the various tables of statistics included, to invite discussions from readers – especially stakeholders.
While I see nothing wrong with that approach, I would argue that the leadership of PAN needs to take ownership of the major challenge of SYSTEMATICALLY exploring the use of alternative low cost, locally available feed ingredients for producing poultry feed.
This can be done on a formal level, in collaboration with farmers. I know this from my interactions with Farm CEOs who already do it for themselves, using pilot scale projects on their farm premises. Such farmers can be invited to share the Indigenous Knowledge Systems (IKS) with others in learning for that PAN can organize.
From there, a project team can be put together to tap from the knowledge and experience of such farmers, towards establishing standards for use of the viable alternative feed ingredients identified, to guide their successful use by interested farmers.
I've written several articles on this theme in the past, in which I reviewed research findings by Nigerian/African researchers on studies they did of locally available low cost alternative feed ingredients.
If you're interested, I can send you an email with URLs to the different articles, which actually offer ready-to-use information, and in some cases contact details of the researchers so you can consult them. Just fill and submit this web request form.
NB: This article is an excerpt from the page 3 feature of Issue No. 12 of Tayo K. Solagbade's The Farm CEO™ newspaper – click here to view table of contents
Learn more about The Farm CEO™ newspaper at www.thefarmceo.net
Below: Screenshot of the cover for Issue No. 12 of THE FARM CEO (Monday 24th August 2015)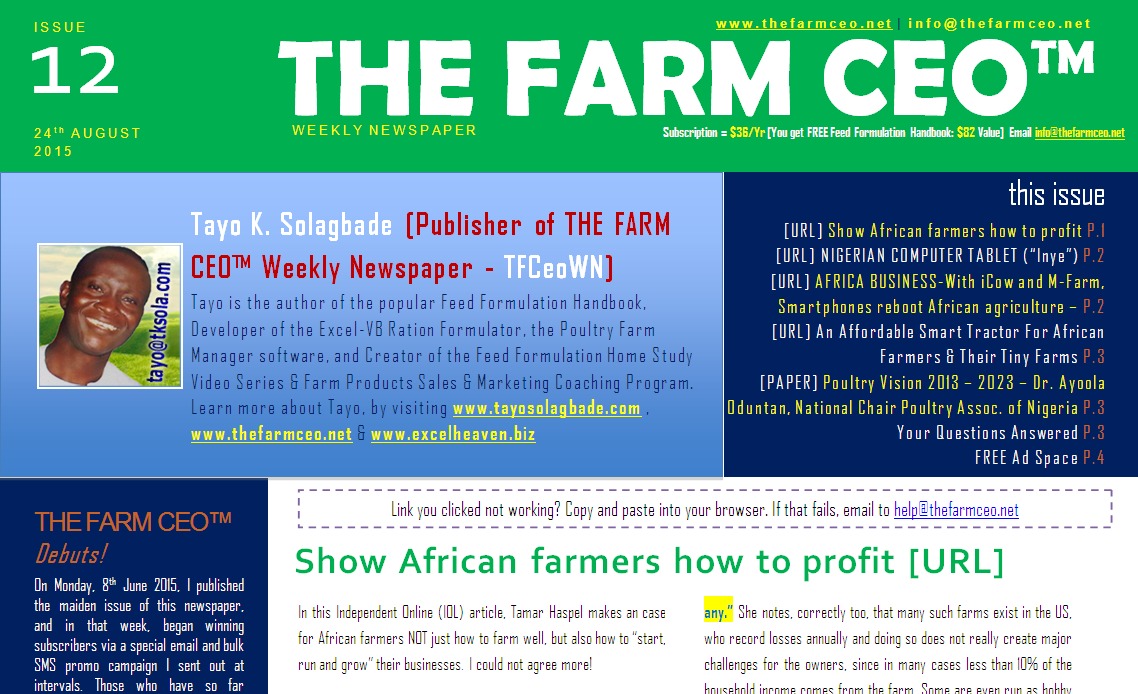 You're reading POULTRY VISION 2013 – 2023 BY DR. AYOOLA ODUNTAN, NATIONAL CHAIRMAN, POULTRY ASSOCIATION OF NIGERIA [A Review published in Issue No. 12 of Tayo K. Solagbade's The Farm CEO™ newspaper] by Tayo Solagbade, originally posted on his Daily Self-Development (SD) Nuggets™ blog. If you loved reading this post, be sure to follow Tayo on Twitter, Facebook, and Google+.
You may also wish to check out his growing library of tutorial and demonstration videos on Youtube. Click here, to download over 10 resources to boost your personal and work related productivity.
IMPORTANT NOTE:
On 4th May 2014, Tayo's 9 year old domain (Spontaneousdevelopment dot com), was taken over by Aplus.net. Within a few days however, Tayo used his advanced self-taught web development skills to build (and move his website contents into) a SUPERIOR "reincarnation" at http://www.tayosolagbade.com.
Most URLs bearing the old domain name appearing in search engines should now work if "spontaneousdevelopment.com" is replaced with "tayosolagbade.com". If you experience any difficulties finding a page or document, email Tayo at tksola dot com.
Click "Tayo, What Happened to SpontaneousDevelopmentDotCom?" to read a detailed narrative about how the above event occurred :-))
Here's an article Tayo wrote, to inspire others to defy adversity, and bounce back to even greater reckoning at what they do EVERY time:
And he wrote the one below, to explain why losing a domain name, no matter how old NO LONGER determines your online success or otherwise:
A Proven Strategy to Find Profitable Buyers Regardless of Your Domain Name
Source: ExcelVB