Universities and business schools across the world often offer full, real world relevant Excel-VBA programming courses. But NONE in Nigeria, Benin, possibly all of Africa do.
This write-up is targeted mainly at educators  and providers of learning solutions in Africa. There is a massive dearth of MS Excel learning in general and Excel-VB programming education in particular.
Countless certified accountants in the UK, America, Australia, Canada and Asia excel by developing automated Excel-VB driven applications for their employers and clients.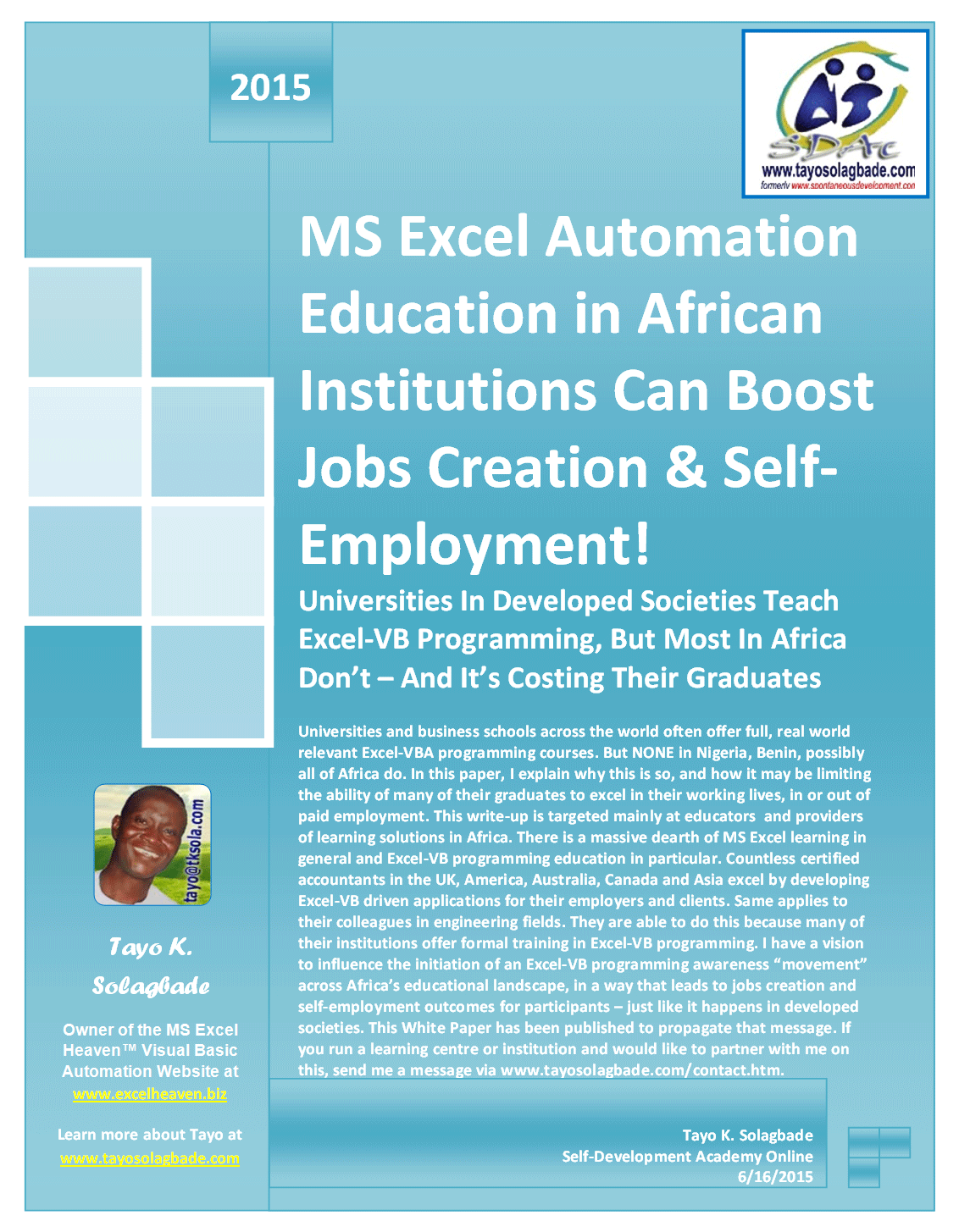 Same applies to their colleagues in engineering fields. They are able to do this because many of their institutions offer formal training in Excel-VB programming.
In this paper, I explain why this is so, and how it may be limiting the ability of many of their graduates to excel in their working lives, be it in or out of paid employment.
I have a vision to influence the initiation of an Excel-VB programming awareness "movement" across Africa's educational landscape, in a way that leads to jobs creation and self-employment outcomes for participants – just like it happens in developed societies.
This White Paper has been published to propagate that message. If you run a learning centre or institution and would like to partner with me on this, or you would like to download the full PDF white paper (it's FREE), send me a message via www.tayosolagbade.com/contact.htm.
You're reading MS Excel Automation Education in African Institutions Can Boost Jobs Creation & Self-Employment! by Tayo Solagbade, originally posted on his Daily Self-Development (SD) Nuggets™ blog. If you loved reading this post, be sure to follow Tayo on Twitter, Facebook, and Google+.
You may also wish to check out his growing library of tutorial and demonstration videos on Youtube. Click here, to download over 10 resources to boost your personal and work related productivity.
IMPORTANT NOTE:
On 4th May 2014, Tayo's 9 year old domain (Spontaneousdevelopment dot com), was taken over by Aplus.net. Within a few days however, Tayo used his advanced self-taught web development skills to build (and move his website contents into) a SUPERIOR "reincarnation" at http://www.tayosolagbade.com.
Most URLs bearing the old domain name appearing in search engines should now work if "spontaneousdevelopment.com" is replaced with "tayosolagbade.com". If you experience any difficulties finding a page or document, email Tayo at tksola dot com.
Click "Tayo, What Happened to SpontaneousDevelopmentDotCom?" to read a detailed narrative about how the above event occurred :-))
Here's an article Tayo wrote, to inspire others to defy adversity, and bounce back to even greater reckoning at what they do EVERY time:
And he wrote the one below, to explain why losing a domain name, no matter how old NO LONGER determines your online success or otherwise:
A Proven Strategy to Find Profitable Buyers Regardless of Your Domain Name
Source: ExcelVB