My Feed Formulation Handbook was written and began selling offline in 2002 – and later via the web.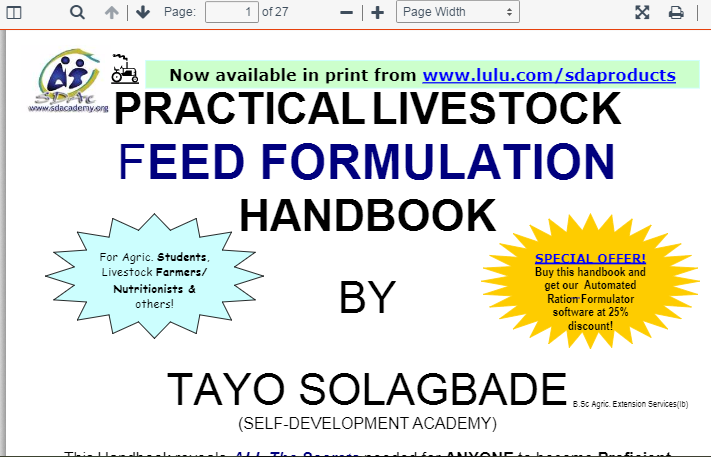 It remains my most popular product, followed closely by my Excel-VB Ration Formulator spreadsheet software, which I built in response to requests by buyers of the handbook who wanted an automated means of computing ration formulas.
When I wrote it, I noted that it would be a valuable reference for students of Agriculture, Livestock Farmers, Nutritionists & other stakeholders in the livestock farming industry.
Looking back over the past decade, I can confirm that the sales I've made have been to people from all those groups I anticipated would need it!
Here's the abstract on the cover:
This Handbook reveals ALL The Secrets needed for ANYONE to become Proficient in Poultry (Even Livestock) Feed Formulation and Compounding!

It comes loaded with over 60 pages of: Detailed notes, worked examples, practical tips, and illuminating insights into the science of feed formulation using the Pearson Square computation technique.

In-depth exposition on critical considerations in selection and use of feedstuffs, plus tables of nutrients/energy values of local feedstuffs, anti-nutritional factors etc Essential features of Broiler starter/finisher, Chicks starter, Growers & Layers rations as well as Sample/Pre-formulated rations all of which have been fully used for production in real-life settings – And lots more!!
Get a FREE 27 page PDF download preview:
If you'd like to get a peek at the contents of the handbook, all you need do is subscribe to my newsletter mailing list, using the form located towards the bottom of this page, and follow the instructions that come to you via autoresponder.
Alternatively,just click here to contact me directly.
Source: ExcelVB